There is yet another new rideshare company on the block trying to take a piece of Uber's profits. This newest rideshare app, RideBoom, was developed in Melbourne, Australia by a taxi operator who is eager to make RideBoom everything Uber is not.
Like most Rideshare apps, you order your car through the app, watch your driver arrive, and pay via the app at the end of your trip. However, RideBoom does have a few unique features. Our favorite aspect of this app is that you can choose your ride for either immediate pick up or for the future. RideBoom's future time bookings can be made through the app from 2 hours to 7 days in advance ensuring there is a car for those early morning rides or time-sensitive special celebrations. Also, because RideBoom allows you to pre-book through the app they also offer the option for the driver to arrive with baby/child seats so you do not have to worry about lugging your own car seat around!
Rideboom, unlike UberX, only accepts accredited, commercial hire car / van drivers and luxury taxi drivers. Also all of their drivers and vehicles are required to carry commercial insurance for all rides.
The one downside of Rideboom, is it is currently only available in Melbourne, Australia. However if you are planning a trip to Melbourne anytime soon you can still download the app and book a ride from overseas!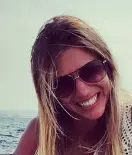 About the Author
Lilly is the marketing manager for TaxiFareFinder.com. She has a dream to travel to 100 countries during her lifetime but meanwhile is filling her time by instagramming pictures of her puppy and trying to figure out how to get an acceptance letter to Hogwarts.