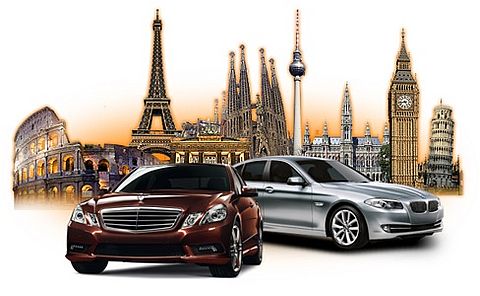 There are so many ways to get around Europe. The Eurail and planes are popular ways of getting from country to country for cross continental trips. Public transportation is another great way to get around big cities with the infrastructure. However, sometimes the best way to get around Europe is by renting a car and driving yourself through your next adventure.
Can I drive from one country to another in Europe with my rental car?
Renting a car and driving in Europe is a little different than in the United States. As Europe consists of many countries bordering one another, it can be easy to drive from one country to another. However, the rental car agencies car insurance only covers specific countries. When you rent a car in Europe, there will be countries you can and cannot go to legally based on the rental company and their policies. It is important to check with the rental car company before you embark to make sure you can drive to or through the countries you are planning on going with your rental car. 
Are there tolls in Europe?
Vignettes are also an important part of driving in Europe. They are very similar to American toll tags. Vignettes can be purchased at gas stations within the country and are placed in the windshield; they cost between ten and fifteen euros depending on the country. They are proof you have the right to drive on the road and that you have paid your highway taxes. There are signs when you cross the border to remind you because people think they are a tourist trap, which they are not. Not having a vignette can result in a fine of 150 euros or more depending on the country. Many times rental car companies will provide your vehicle with the proper Vignettes so make sure to inquire as to whether or not you are already good to go!
Can I rent a car in Europe but return it at another location?
Renting a car in Europe is an affordable way to get around Europe. The exception to this is if you are planning a one way trip. Renting a car at one destination and returning it at another destination makes a huge difference in the cost of renting a car on a Europe trip. It can be a thousand euros or more to return the car at another location than where you originally rented it. To keep the cost down, schedule your trip so you rent and return the car at the same location. It is an easy way to make renting a car more affordable.
Do I need rental car insurance?
As previously discussed, rental car insurance is very important and you cannot get away without buying it. However, you may be able to save money on your rental car insurance simply by using the right credit card! When you make reservations with certain credit cards, there is rental insurance already provided through the credit card company. This can save you a bunch of money on insurance.
Where can I rent a car in Europe?
Lastly, it is important to note that airports are by far the most convenient place to rent cars, but they are always more expensive than renting from other locations. You will pay for the convenience. If you are on a tight budget, look into taking public transportation from the airport to another rental car location.
Renting a car is a great way to get around Europe. Look at your itinerary and do a little due diligence to make sure you can go where you want and are not price gouged.