One of the questions that we most frequently hear at TaxiFareFinder is whether or not car seats are required in taxi cabs and if so who is responsible for bringing the car seat, the parent or cab driver? This question is a very serious one yet a hard one to answer as the laws change from region to region. For example in New York City and Las Vegas taxi cabs are exempt from the car seat law, hence making it legal for children to ride in taxi cabs without a car seat. In areas where taxis are exempt from the law, parents are still strongly encouraged to bring their own car seat to secure into the back of the taxi cab. Although this may seem quite cumbersome to carry around a car seat it is also a matter of safety for the child. If you are unable to carry a car seat with you for your trip you may always call a taxi company and order a cab with a car seat to come pick you up, though you may have to wait awhile longer for a taxi this saves you the trouble of carrying around a 20 pound car seat all day! Finally if neither of these options are fitting for you please make note of these certain safety concerns when carrying a child into a taxi without a car seat.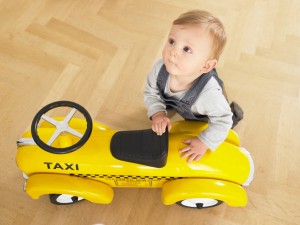 If the child is under age 7, it is strongly encouraged that you hold the child on your lap but do not buckle the child in the seatbelt with you or have an infant in a baby carrier such as a baby Bjorn! People in a crash weigh their weight multiplied by the speed of a crash. Therefore an adult will weigh several thousand pounds, crushing a child sitting on their lap or carried on their chest in a baby carrier.
If your child is big enough to wear a seatbelt comfortably, make sure you do not put the shoulder belt behind your child's back or under their arm. This removes all head and chest protection.
While some regions exempt taxis from the car seat law, others do not: for example, in Massachusetts, children are still required to be properly restrained in a car seat in a taxi. If you are found riding with your child in a taxi without a car seat you, not the taxi driver, will be fined $25. Also if the taxi driver does not provide the car seat it is up to the parents to bring one themselves. However, most cab companies will provide a car seat if you call ahead. Also, always keep in mind your child's safety and don't feel rushed by a cab driver when installing a car seat in the cab. Make sure to take your time and properly install the car seat, it is the driver's job to wait for you while you do this.
Finally, since every region has different laws regarding car seats and taxi cabs, I would strongly encourage everyone to visit their state's government website to learn what the law is in your state before you venture out for the day in a taxi!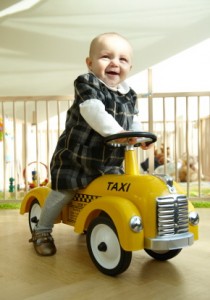 Ready to travel with your kids? We suggest you look up the fares in advance to find out which car service is cheapest for your family on our RideGuru Comparison Fare Calculator. You may also want to check out our individual taxi pages on TaxiFareFinder to see if there are special restrictions or rules in the city you are traveling in.
*Note: The same rules apply to school buses, limos, executive sedans, or any for hire vehicles. Any of these vehicles may be exempt from the child restraint law in certain regions just like taxis are, so no matter what for hire vehicle you are traveling in make sure to check the laws regarding car seats in your area.
Here are some helpful links and resources to check out:
http://www.mass.gov/rmv/faq/inspection.htm#7
http://www.livestrong.com/article/216354-taxi-child-safety-seat-laws/
http://home2.nyc.gov/html/tlc/html/passenger/faq_pass.shtml#9
http://www.lasvegas-how-to.com/taxi-cab.php
http://www.leg.state.nv.us/NRS/NRS-484B.html#NRS484BSec157
Lilly Tillapaugh is an intern at TaxiFareFinder.