A continuation of How to Avoid Taxi Scams: Part I with more tips and recommendations to prepare taxi riders for any scam or trick a cab driver could attempt.
Know what to expect ahead of time.  In order to be prepared, travelers should be aware of the local customs and expectations, especially when traveling abroad.  Make sure you are comfortable with the currency and taxi regulations, as they sometimes differ greatly from country to country.
Know the best route. You should be aware of the best route to your end destination, whether that be the shortest or cheapest way; it is definitely a good idea to have prior knowledge of your intended route so you can monitor where the driver takes you.  With this research, you can turn down the option of "sight-seeing routes" and other seemingly kind offers that are generally fueled by intentions for higher fares.  Also, you will be able to know about potential unmapped diversions and detours if you review an up-to-date map online and avoid this common excuse for longer routes and higher fares.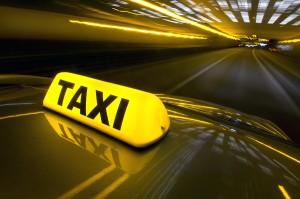 Know what charges to expect.   If you already know the range of fare prices to expect, it will be obvious if a driver is inflating the customary price and overcharging you.  You should always ask the driver for a flat rate to your destination before you get in the cab, this will enable you to turn down drivers with unreasonable quotes.  At this point, although you have been offered a flat rate, always ask for the meter to be switched on as well; the passenger has the right to choose the least expensive option.  Definitely agree on a flat rate before getting into a cab if the meter is known to be broken or malfunctioning; the driver is obliged to inform you of this.  A few common scams associated with the meter include: not resetting the meter from the previous trip before you or using counterfeit meters that have different rates programmed.  Again, always question the driver: ask how much the ride will be and what type of meter is being used before getting into the cab.
Know the companies.  It is always a safer option to call a taxi and request a ride rather than hail one off of the street.  This will ensure that you have a ride from a reputable source.  In some major cities, it is common to find taxis that are not properly licensed or marked, these can be very expensive and often dangerous.  Be especially aware at major tourist location such as airports, where these vehicles prey on unsuspecting travelers.
Utilize Resources.  As stated several times already, research and awareness are necessary to truly be safe from taxi cons and tricks.  Use all the resources you can get your hand on to be properly informed: friend's experiences, travel blogs, forums, websites, and online tools.
TaxiFareFinder is one tool that is helpful in determining everything taxi related: the website and smartphone app provide a taxi fare calculator for cities around the globe.  An estimated fare is calculated so that passengers have an up-to-date approximation of prices to anticipate, which includes the initial fare, additional metered fare, and the tip.  Besides this, TaxiFareFinder produces current maps of potential routes, including the option to choose the fastest, cheapest, or shortest route.  This printable map will show the passenger different tolls, surcharges, and additional fees that could possibly be incurred, so once again, there are no surprises.  Additionally, this tool provides the contact information for certified and licensed cab companies in the area requested; this facilitates the process of finding a trustworthy company.
Follow these steps to make sure you are always a prepared traveler and taxi rider!