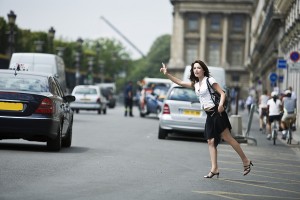 If you're a small town dweller, like myself, you have probably at one point or another found yourself stuck on the side of some big city street wondering why you can't seem to get a taxi to pull over and pick you up. Though you might get lucky after a while, there are a number of tips and tricks that the expert city inhabitants have picked up over time that will be sure to help you spot an on duty cab and hopefully flag it down before someone else does.
1.      Let them see you – Face the Traffic
Stand on the side of the road and turn yourself sideways to face the traffic head on. While this tip might seem a bit self-explanatory, you would be surprised at how many people stand perpendicular to the street, only catching the cabbies eye at the last moment not allowing them enough time to pull over. On a side note to this tip always make sure to stand on the side of the street where the taxis are going in the direction that you want to go to your destination. This will make for a faster and less expensive trip as you don't have to pay for the taxi driver to turn around or venture around the block!
 2.      Stand *Up* the Street from the Crowd
If you find yourself trying to hail a cab when the streets are exceptionally busy, say right after a game at Yankee Stadium, it is best to stand as far up the street as you can, so that you can hopefully catch a cab before everyone else. If you find yourself at an intersection with a lot of people, make sure to stand on the side where most traffic is coming from before the intersection splits as most drop offs tend to happen BEFORE a taxi enters the intersection.
 3.      Check if Taxi is On-Duty!
Follow these rules to know whether or not a taxi is on/off duty or occupied!
When just the center is lit, highlighting the medallion number, the cab is available.
When the medallion number, as well as the side lamps are lit, the cab is off-duty.
When no lights are lit, the cab is occupied with passengers already going to a destination.
Note: this tip is mainly for NYC as this is the followed norm. In other cities different rules may apply!
4.      Make the Cab Driver See You!
Once again this may seem like a simple feat but you must catch the cab drivers eye early on by stepping out into the street (or if you feel safer the side of the sidewalk) and waving or sticking your arm out at the driver, once you see him put his turn signal on and pull over to you, you can put your arm down and walk over to enter the cab. Many people fail this task by acting too timid- make sure you are confident and a cab will be sure to see you!
5.      Go to a Nearby Hotel
If you are still having trouble with hailing a cab, find the nearest hotel and utilize their taxi stand. Yes, that's right; you DO NOT have to be a hotel guest to use their taxi stand. This trick can be an especially useful one if you are having a hard time hailing a taxi or don't feel like waiting on the side of the road!  Always remember to tip the hotel doorman! A $2 tip should suffice!
Now that you know the tricks of the trade for hailing a taxi you should be able to conquer transportation in any city – though make sure you look up the rules for hailing a taxi in the city you plan on visiting for some cities, such as Las Vegas and Los Angeles actually DO NOT allow you to hail a taxi off of the street.
Good luck on your summer traveling adventures and let us know if you have any tips worth sharing!