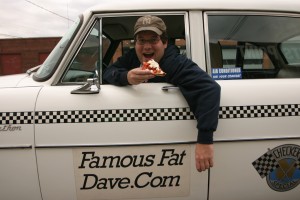 Food connoisseur and former New York City taxi driver, Famous Fat Dave, takes passengers for true tours of the Big Red Apple: tours that are centered around food. He takes passengers for one of the most delicious rides of their lives in a classic white Checker Cab through all five boroughs on a quest for amazing food. Check out his
website
and
blog
for more information, stories and pictures about a day in the life at his appetizing job. See what Famous Fat Dave had to say to TaxiFareFinder about his experiences and time as a cab driver in our interview below!
.
.
You mention a wide variety of jobs you've taken on, such as hot dog vendor and bread truck driver; can you tell us a little about your time as a cab driver?
 .
I actually still have a hack license, but I haven't driven a yellow cab in years. But when I did, I had a great time. Yes, I got attacked by a junkie. And yes I got robbed. But even those experiences were interesting. Unlike most cabbies who don't want to go to the outer boroughs, I loved taking people out there because I'd get great food tips.
.
What was your favorite aspect of driving a cab in NYC?
.
To me, driving a cab is like travelling. I got to meet people from all over the world, both visitors to the city and residents of the city, in the back of my cab. Plus, travelling to different parts of the city is like traversing the world because of all the different immigrant groups living here. And in a funny way, it can be like time travel too, because when an immigrant group arrives time sort of stops for them while back in the old country time marches on. So some of these places aren't just like visiting, let's say, Italy, they are like visiting Italy 100 years ago!
.
That is a great way to view driving a cab! Today, your taxi is a little different from most NYC cabs found driving around the city. Can you give our readers a brief explanation of what makes your vehicle unique?
.
I now drive a 1982 Checker Marathon. Even if you think you don't know what a Checker is, you do. It's the car Travis Bickle drove in the movie Taxi Driver. It's the car Andy Kaufman worked on in the show Taxi. It's a classic. Checker started in 1922 and they made the classic body we all know and love in 1961 and then never changed it until they went out of business making cars in 1982. So mine looks like a 1961, but it's actually a 1982. It's so spacious. And, since it's a Marathon (the family version of the taxi) it's a smooooooth ride. And because everyone loves it, people on the street or stopped in traffic can't take their eyes off of us. It brings the characters out of the woodwork.
.
You take visitors for "food tours" of New York City in your coveted Checker cab – how did you come up with this idea?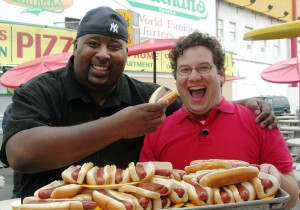 Well I didn't sit down and think "How can I start a business?" It grew organically. I first asked my customers in my yellow cab for food tips in their neighborhoods because I wanted to know myself. I pretty quickly started taking friends and family on eating tours. Then I started taking family of friends and friends of family. And then, when people starting paying for the experience, I was faced with the choice, do I get a job or do I eat for a living? The decision to eat for a living was pretty easy at that point.
.
.
That sounds like an easy one to decide on! When did you start your tours? And how did you get the word out there about Famous Fat Dave and become as well known as you are today?
.
I started doing them for fun in 2004. Then it started to gain steam after an NPR story in 2007. I started doing tours full time after I finished grad school in 2009. I got the word out there from my
website 
and a considerable amount of press and media you can see at
here
on my website, but mostly from old-fashioned word of mouth. I do have a Twitter account, a Facebook page and an Instagram now, but just like I do for my food recommendations, I rely on speaking to people face to face to get the word out. Oh, and the Checker gets a lot of attention on the street!
.
I bet it does – why did you choose an old white Checker Cab? And second, how did you get your hands on that beauty?
.
Why? The Checker is the icon of New York City for one. It flips the tourist experience. Instead of you gawking at people in NYC, people in NYC are gawking at you. Also, about 1/3 of my business comes from New Yorkers themselves because no one appreciates a Checker more than a true New Yorker. On top of that, it's very spacious and people tend to expand on my tour.
.
How? There's a man in Ohio named Ben Merkel who wrote a book about taxis in 2007 called The American Taxi: 100 Years Of Service. He collects old taxis, mostly Checkers, and at one point he had 500 of them. He sold me this one because it had never actually been used as a taxi and he collects taxis. Mine, who I named Sweetness, was the family version of the taxi. In fact, mine is the last Marathon that ever rolled off the assembly line in 1982. Checker pumped out a bunch of taxis for two weeks after mine, but most of those were driven into the ground and scrapped. The very last one is in a museum in Kalamazoo where it was made. Sweetness doesn't belong in a museum, she belongs on the streets of New York City.
.
What a story – how awesome! Can you choose a favorite customer that you have brought on one of your eating tours?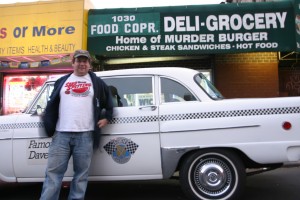 That question is like asking a father which of his children is his favorite. I really enjoyed eating with food luminaries like Al Roker and Tony Bourdain and Ben Seargent. But, like it says on the dry cleaning when you pick it up, we love our customers. I've had some customers do as many as five tours. By the end of some tours, even when it's only once, I feel like part of the family, a long lost cousin or something.
.
What is the most unexpected thing that has ever happened in your cab?
.
It's funny, nothing too crazy happens on the eating tour. Eating large amounts of food tends to make people pretty docile and actually somewhat sleepy. In my yellow cab, people would have sex and such. In my Checker, people usually glaze over in a state of food euphoria.
.
 Ha, well that must be a nice change. What is the best part of your job?
.
I love food and I love New York. And I love hanging out with people who love what I love. So just spending time with the people who make the food great here and the people who make the city great and the people who love experiencing it all is the best part of what I do. And then, doing in a Checker cab, amplifies it all because we are treated like celebrities everywhere we go in that thing.
.
Now the hard part: what is your favorite place to eat in NYC? (Are you able to choose just one?! Or even a top five list?)
.
I'm a lover, not a fighter. One of the things I can't stand is when people start ranking places. As if you can compare a coal oven pizza to a thick slice to a grandma slice and somehow decide which one is better. I've set my whole life up around getting to choose from a variety of spots and NOT having to pick a favorite. And that's reflected in the tour. I help people taste a little of this and a little of that until they are stuffed. No need to rank places. Once you're dealing with the top notch stuff in NYC, just eat it all!
.   
What does the future look like for you? Seems like you have an exciting future ahead of you!
.
I'm working on a book right now. I may even turn it into five books, one on each borough. So that is exciting. But people often assume I'll expand into a big tour since people have a knee-jerk reaction that bigger is better. But I actually just want to do this forever. I don't want to be the boss of some big tour empire. I want to drive my Checker around this great city with other people who also want to experience it in the same way I do.
.
.
.
TaxiFareFinder would like to give a big thank you to Famous Fat Dave for his time, effort and willingness to share his experiences with us! Be sure to check out Dave's website and see what he has been up to. Keep on finding those amazing restaurants!