Hailing a Taxi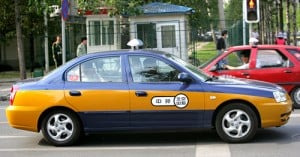 Taking a taxi in Beijing is a convenient way for newcomers to travel around the city but it can be tricky to hail a legal taxi cab. Only a few of the taxi drivers in Beijing can speak English, so it is important that you have the Chinese characters for your destination location ready in advance. When trying to hail a taxi keep in mind that vehicles used as taxis are predominantly Hyundai Elantras and some Sonatas, with a few older Volkswagen Santanas, Jettas, and Citroens. The taxis are typically dark red, dark green or dark blue with a dark yellow stripe and the name of the taxi company running through the middle of the car. A small percentage of models are painted all black. Also keep in mind that there are a lot of illegitimate taxi cabs roaming the streets of Beijing, make sure your taxi's license plate begins with the letter "B" which is reserved for public transportation vehicles (京B). The driver's registration card should also be prominently displayed on the front window facing the front passenger seat for you to see. If you happen to get in an unofficial cab make sure you remember the car and take down the license plate number to report to police later.
Once you have hailed a cab or found one waiting on the street (typically near popular tourist attractions), it is not unusual if the driver only rolls down the car window to talk with you before allowing you to get in. Many times they are trying to find out if your destination is the same way they are heading. However, once you are in the cab and the meter has been turned on your driver is legally obligated to take you to your destination. Every Beijing taxi has a meter and when the meter is turned off, a "For Hire" sign appears in the window of the taxi. This will help you tell whether or a not a taxi is occupied.
After your taxi ride make sure you get a receipt which will list all of the taxi details. This will be very useful if you end up having any problems such as leaving an item behind in the cab.
Lastly there is a cab calling service available if you are unable to hail a taxi. Passengers can book a cab 24 hours in advance by phone, internet, or mobile phone through the citywide reservation system. The reservation hot line is 96103.
Rates
The standard rates are as follows:
| | |
| --- | --- |
| Minimum Fare | CNY 13 for the first 3 kilometers (1.86 miles) |
| Basic Unit Price | CNY 2.3 per kilometer (0.62 mile) above 3 kilometers in the daytime |
| Low-Speed Drive and Waiting Fare | Waiting and traffic jam time when the speed is lower than 12 kilometers (7.5 miles) per hour is charged extra the fare of 2 kilometers for each 5 minutes during the rush hours, and the fare of 1 kilometer for each 5 minutes during other time period. |
| Reservation Fee | CNY 6 for reservation over 4 hours in advance; CNY 5 for reservation within 4 hours. |
| Empty Run Fare | If a single journey is longer than 15 kilometers (9.32 miles), the empty run fare is charged i.e. the price per kilometer rises 50% to CNY 3.45. |
| Night Fare | From 23:00 to 5:00, the charge per kilometer rises 20% i.e. to CNY 2.76. |
| Charge for Sharing One Taxi | Sharing taxi is encouraged for it to some extent relieves the traffic load of the city. If two or more passengers share one cab, one only need to pay 60% of the original fare. |
| Fuel Surcharge | CNY 1 for one ride |
Surcharges and Extras
The price of your fare will be rounded to the nearest whole number of Chinese Yuan. For example, CNY 14.4 will be rounded down to CNY 14, and CNY 14.6 will be rounded up to CNY 15.
Tolls for an expressway or bridge are always paid by the passengers.
If you are looking for a taxi to take you on a tour around Beijing for the day you can usually hire one from CNY 400-600 per day, depending on where you go. The taxi will be obligated to wait for you at each stop.
FAQs
How many taxis are there in Beijing?
There are over 66,000 taxis running in the city of Beijing!
Do you need to tip your driver in Beijing?
No, it is not customary to tip your taxi driver.
Are there ever any challenges when trying to hail a taxi in Beijing?
It can be hard to hail a taxi during rush hours (7:00 to 9:00 and 17:00 to 19:00). Also at certain times central Beijing can be off limits forcing taxis to reroute their trips. This makes hailing a taxi a bit harder and potentially more expensive if the taxi has to reroute your trip by great distance.
Do taxis in Beijing take credit cards?
No the taxis in Beijing do not take credit cards so make sure you have cash on you. If you have a Transportation Smart Card, the taxi will allow you to pay with that.
Are their disability accessible taxis in Beijing?
Yes, there are accessible taxis available for hire. The number to call for an accessible taxi is 96106.
Airport to City Center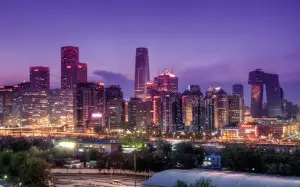 When you arrive at Capital Airport make sure to not accept rides from taxi drivers who approach you inside or outside the terminal as these are not official taxi drivers. Instead follow the taxi signs which will lead you to taxi stands outside each terminal. Each terminal (T1, T2, and T3) has its own taxi stand for your convenience. Capital Airport is about 20km from Beijing City Center. A taxi ride to the city center will cost you around CNY 150.