We had so much fun collecting wild and fascinating taxi travel stories form around the globe, we decided to do it again! Here is another round of tales from pro bloggers, authors and everyday adventure-seekers like you.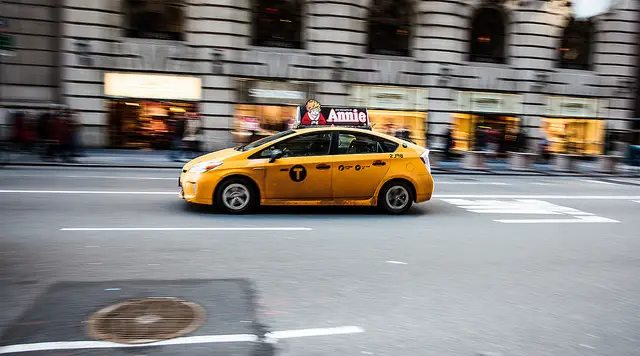 "Having enjoyed Ubon Ratchathani's candle festival in northeastern Thailand, we were ready to return to our apartment in Khon Kaen. Between a series of miscommunications and buses simply not appearing when they were scheduled to, we were stuck at the bus terminal at 8pm. Our three choices: find a hotel that still had rooms and pay extortionate festival pricing for it, bum it around the bus terminal until the first bus the next morning at 5am, or… take a taxi. At 10 Thai baht a kilometer (about $0.31 USD), it's more expensive than the typical meter, but the driver cut a bumpy four-hour bus ride into a 2 1/2 hour screamer going 120km/h down the highway. Good deal, I guess."
Chris Backe is the author of over a dozen books and itineraries, and the offbeat travel blogger behind One Weird Globe.
"When I was 15, I found myself alone in the city with nowhere to go and no one to contact. The taxi driver who took me to that place from the port asked me what was wrong as I sat crying by the curb, and when he heard my problem, he took me to an inn (for free), paid for a night's stay, gave me food, and warned me about going out as it was New Year's Day in an hour. Instead of feeling lonely all by myself in my motel room that New Year's Eve, all I could feel was gratitude for that unnamed cab driver who went out of his way to help a young girl lost in the city."
Aleah Taboclaon writes about traveling on her site Solitary Wanderer. This is an excerpt from a post titled "Solo Travelers in Focus: 9 More Stories of Kindness on the Road".
"When I lived in Senegal, West Africa there were these van taxis called Car Rapides (translation: "fast car" –though they were anything but). Bright blue and yellow and frequently held together by little more than rope and duct tape, these taxis competed for business with a driver, a tab collector and a "recruiter" that hung off the back and yelled at prospective passengers to pick "his" taxi. Their accident rate exceeded that of newborn quintuplets but they were cheap and therefore always packed—with people, goats and chickens. One day a particularly aggressive (or careless) recruiter fell off the back of our taxi—while we were going about 25 mph—and somehow managed to maintain his balance, avoid getting hit by traffic behind us and rejoined our taxi less than a block later. I'll never forget the incredibly quick mood transition inside our taxi from terror to hilarity. (And the driver flogging the recruiter minutes later for his "stupidity.")"
Ever N. Hayes is a sports journalist and novelist of the "2020 Series" featuring the acclaimed debut "Emergency Exit" and the newly released sequel "Redemption."
"We were approached by a tuk tuk driver, who offered to take us to the station for only 10 baht (33c) if we just did him a favour and spent five minutes talking to people in the tourist information office. Apparently it is a government program to pay tuk tuk drivers to bring tourists to tourist information offices. To save 90 baht (AUD$3), when we had plenty of time, we decided to give it a go. One of us stayed by the window while the other talked, and after a few minutes we had established that all the travels we wanted to do to Surat Thani and then to Ton Kloi could be done on government buses, and we were ushered out courteously…Outside, the tuk tuk driver said they wouldn't give him the signature because we didn't talk for five minutes. We hadn't realised that it was timed. He said he would take us to another office and we could do the charade again, for longer this time, and then he would take us to the station for free. Leave yourself plenty of time when you are travelling in Thailand, because you just never know what opportunities for adventure might come your way…"
Jenny Hale is a travel writer and blogger. This is an excerpt from a post about Bangkok on Travelling Light.
I was taking a taxi from Brighton to Logan Airport, and my cabbie blew through the Fast Lane going 65 mph. When I pointed this out to him, he said "the technology was built for 75 mph, so I am fine." I didn't see the Green Light come on, so I am thinking he is definitely wrong and will get a ticket with a photo of his license plate.
Submitted by TaxiFan77 on the Taxi Fare Finder story page (you can submit your own story too!)