TaxiFareFinder is excited to announce the release of our newest feature, Entity Based Autocomplete. With user suggestions and feedback in mind, our new entity based auto complete allows visitors to enter locations or establishment names into the "TO" and "FROM" fields on any TaxiFareFinder calculator. The autocomplete fields will help you fill in your desired location or establishment name without you having to type the complete address. Additionally once you have populated both the "TO" and "FROM" fields, TaxiFareFinder will automatically calculate your fare, eliminating the need for you to click on the "Get Fare" button.
In the screenshot below you will see that we started to type in Logan Airport and after only typing in "LO", Logan Airport appeared as the first option. This will save our users time and effort as they will not have to research and type in the full address of their desired location. The new entity base autocomplete will work with virtually any place you would like to get a taxi to or from, such as Fenway Park, Legal Seafood's, or Mikes Pastries.
Let's try out another city. Below we are using our Chicago Fare Finder and have chosen to take a taxi from Wrigley Field. After typing "WR" in the "FROM" field, Wrigley Field showed up as the first option.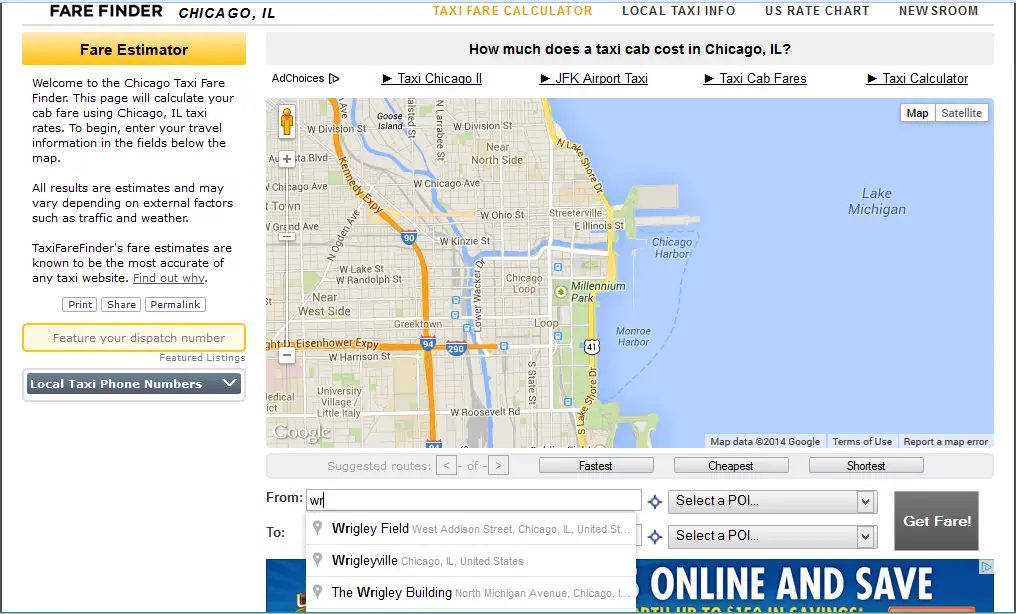 This new feature will undoubtedly make the overall experience of using TaxiFareFinder easier, faster, and more convenient for our users.