Happy What The Uber Friday! This Friday we have a funny yet kind spirited What The Uber for you to enjoy!
This week in Delhi, Uber rolled out their UberPUPPIES initiative and yes, the UberPUPPIES service does exactly what you would think; it brings cuddly puppies to your home or place of work! Apparently, Uber Delhi is trying to diversify itself and Uber's famous marketeer's could only think of cuddly puppies during their brainstorming session.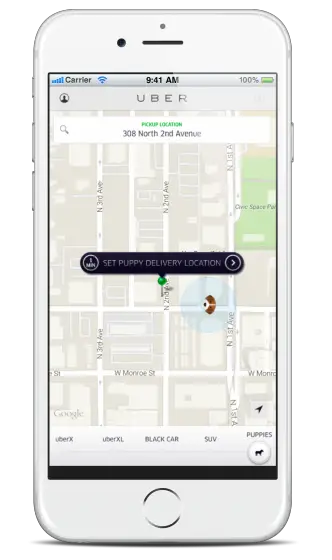 UberPUPPIES works like this; if you open the Uber app during a designated window of time (UberPUPPIES, sadly, is not 24/7) and select UberPUPPIES, a car full of puppies will be driven to your location. You will have 15 minutes of cuddle time before the puppies are taken to their next location. The price to cuddle these little fur balls is only Rs 10. The best part about UberPUPPIES, however, is not the price or on-demand cuddles, it is the fact that if you end up loving one of the puppies you can actually adopt him or her! While this is a fairly crazy Uber initiative, we love that they are bettering the community by helping to find stray puppies good, kind homes.
As we mentioned UberPUPPIES is not a 24/7 initiative but Uber has teamed with different animal shelters multiple times now to bring the puppies to the public. Keep your eyes open because UberPUPPIES might be coming to your city next!
Tell us your thoughts below on this What The Uber Story! What do you think will be next, perhaps UberYUPPIES?
If you have a What The Uber moment or want to share a What The Uber story please email [email protected] or use the hashtag #WhatTheUber to get your story featured and shared on our social media channels!