Hailing a Taxi
When hailing a taxi in Paris, France you will almost always want to go to a taxi stand or a major transportation hub. Many taxis in Paris line up at these popular places instead of picking passengers up off the streets. Some of the most popular places where taxis are known to congregate are near the Louvre at the Place Andre Malraux, near the intersection of rue de Rivoli and Avenue de l'Opera, Gare du Nord, Gare de L'Est, Gare du Montparnasse, Gare d'Austerlitz or Gare St Lazare.
If you are unable to make it to a popular taxi stand and are looking to hail a taxi from the side of the street there are a few things that will be helpful for you to know.
Taxis in Paris have lights on their roofs that indicate whether they are available. If the light is green the taxi is available, if the light is red the taxi is occupied, and if the light is off it means the taxi is either off duty or already on their way to pick up a reserved fare.
Licensed taxis have a sign saying "Taxis Parisiens" on them; make sure you only get in a licensed taxi!
Unlike the standard yellow taxi of NYC, taxis in Paris don't have a common color or make so you will have to recognize the taxi by the sign and light on top of the car.
Taxi drivers are not allowed to pick you up if you are within 50m of a taxi stand or if they would have to stop in a bus lane to collect you.
Main Paris Taxi Services:
Paris Taxi: http://www.paristaxi.fr
City Cab Paris: http://www.citycabparis.com
Les taxis bleus: http://www.taxis-bleus.com
Taxis G7: http://www.taxisg7.fr/index.php
Rates
All taxis apply the same rates, which vary according to time and day of week. There is always a starting charge of 2.40 euros and a minimum fare of 6.40 euros. See the chart below to determine when certain rates are applied.
*Note: All Taxis have three smaller lights below their big red/green light. These three smaller lights are there to indicate what rate is currently being charged. Each light is labeled with either A, B, or C to easily identify the current rate.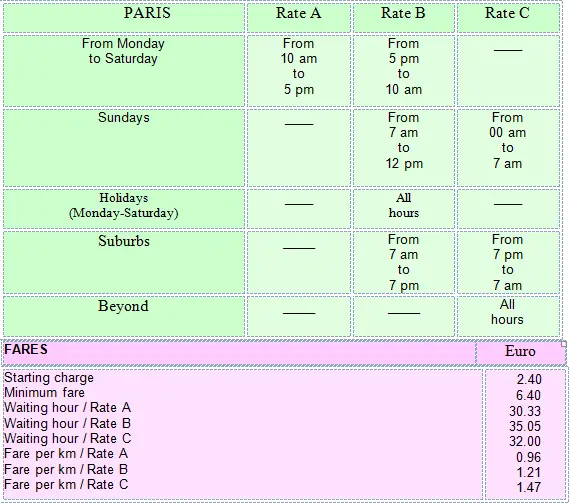 Surcharges
If you reserve a taxi in advance, you will have to pay a reservation and pickup fee on top of the fare itself. Also be aware that when you book a taxi by phone, many taxi companies will start the meter the moment the taxi leaves to come get you, so when the taxi arrives, the meter will show more than the minimum charge.
Expect a 1.00 € surcharge for each piece of luggage and/or bulky items
After the 4th person expect a 3.00 € charge per person
FAQs
How many taxis are there in Paris?
There are about 15,000 taxis in the city of Paris.
Do you tip the Taxi Driver in Paris?
Tipping is not the custom nor is it expected in Paris. The driver is not working for tips so you do not need to feel as if you should tip, however, rounding up a euro or two is not uncommon and it is generally appreciated by a good taxi driver
Can you pay your fare using a credit card?
The use of credit cards is not common in taxis in Paris, it is always best to have cash with you! Check is also seldom accepted.
Can you smoke in the taxis in Paris?
You can smoke in Paris taxis that don't have a non-smoking sign. The driver, on the other hand, can only smoke if you give your permission.
Taxi from Airports to Paris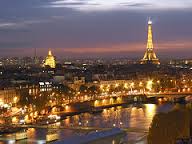 There are two main airports near the city of Paris, the Orly Airport and the Charles de Gaulle Airport. Both of these airports have signs and icons starting from your arrival terminal that will point you in the direction of the taxi stands.A trip from Orly Airport to the city center will cost you anywhere from about 30-40 Euros depending on the time of day and day of week.  A trip from the Charles de Gaulle Airport will cost you a little bit more, around 40-50 Euros for a trip to the city center. Since the rates in Paris change depending on the day of week and time it is always a good idea to ask the taxi driver for the average fare from your point of departure before accepting the ride.
In the Event of a Dispute
You can address a written complaint to:
Préfet de Police – DTPP – BTTP
36, rue des Morillons
75732 Paris Cedex 15