Rideshare companies like Uber are commonly used as a convenient way for people to get from point A to point B, but as of recently, they are good for so much more! With many small rideshare companies emerging, and opposition getting stronger from taxi companies, popular ride hailing services are using their creativity to stand out from the rest!
Uber is the largest and most popular rideshare service available, and in the past year they have come up with some really cool ideas to offer users a unique riding experience.
During finals time, Uber introduced UberSTUDY, which partnered with Insomnia Cookies in Georgia. All you had to do was request the Uber and a driver would provide you with warm cookies, and milk to go with them! Because who likes cookies without milk? And the best part—the study package was free for people in the area!
Another popular offering that Uber launched was UberPUPPIES. They partnered with animal shelters in 10 cities across the United States and allowed users to request a visit from a furry friend! The 15 minute play time cost only $30 and the proceeds were donated to the animal welfare organization. And to make it even more exciting—most of the puppies were up for adoption, too!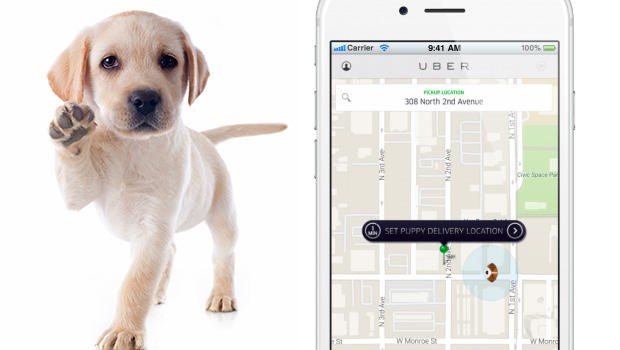 More recently, just a few days ago Uber announced UberICECREAM where customers could order ice cream for themselves and their friends on demand! When connected, people were delivered 5 frozen treats from J.P. Licks for only $25. What an awesome way to cool off during the hot weather!
One service from Uber that is available year round during meal service hours in 5 major cities is UberEATS. Users can go to their app and tap VIEW MENU, and then place the order of what they want to eat, and their meal will be delivered to them curbside in a short time.
There are also other services besides Uber that offer passengers something different—including companies such as KangaDo, Shuddle, and HopSkipDrive, which all were created just for kids! They provide ways for parents to shuttle their children from one place to another, and they have become a big hit for those busy soccer moms around the world.
All of these unique offerings made the rideshare companies stand out, and gave customers a unique and unforgettable experience in the meantime!
Felicia is an intern at Unleashed, LLC. She is from upstate NY, and is currently pursuing a Marketing degree at Bentley University. One day she hopes to travel the world and visit every continent.