Hailing a Cab in NYC
NYC, the birthplace of bright, bustling yellow taxi cabs! With over 10,000 yellow cabs servicing the city, residents and visitors alike find taxis to be a quick and easy means of transportation across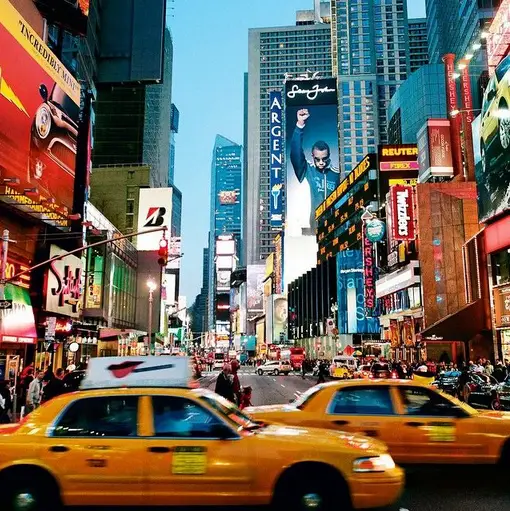 Manhattan. While it may be a bit scary for a visitor to flag or hail one of these beautiful taxis off the street, it is actually a fairly simple process. Stand by the edge of the sidewalk facing the oncoming traffic, preferably near an intersection, then just stick out your arm and pretend you're the Statue of Liberty! With any luck a taxi will pull over to you within seconds. It is also important to remember that when the numbers on the roof of the cab are lit, the cab is available. Use the below bullet points to learn and remember when a cab is available, off duty, or already has a fare.
When just the center is lit, highlighting the medallion number, the cab is available.
When the medallion number, as well as the side lamps are lit, the cab is off-duty.
When no lights are lit, the cab already has a fare they are bringing to a destination
Rates (The below information is taken from NYC.gov)
The rates in NYC are as follows, $2.50 flag drop plus 50 cents per 1/5 mile or 50 cents per 60 seconds in slow traffic or when the vehicle is stopped. In moving traffic on Manhattan streets, the meter should "click" approximately every four downtown blocks, or one block going cross-town (East-West). There also is a flat rate from JFK to Manhattan for $52, keep in mind for this flat rate there is no night surcharge and the meter does not need to be run. It is also important to understand that the above rates are only for trips within city limits, once a taxi takes you beyond city limits, the meter rate will double!
Surcharges and Extras
There is a 50-cent MTA State Surcharge for all trips that end in New York City or Nassau, Suffolk, Westchester, Rockland, Dutchess, Orange or Putnam Counties.
There is a 30-cent Improvement Surcharge.
There is a daily 50-cent surcharge from 8pm to 6am.
There is a $1 surcharge from 4pm to 8pm on weekdays, excluding holidays.
Passengers must pay all bridge and tunnel tolls.
There are no charges for extra passengers or bags.
Add $17.50 on trips from Manhattan to Newark Airport.
FAQs
Do taxis take credit cards?
Yes, drivers accept credit/debit cards for all fares; there are no minimums or fees to use your credit/debit card. The driver is not required to accept bills over $20.
Do I have to sign the receipt?
Customers only need to sign the receipt when the total is $25.00 and over.
How many people can fit in a standard cab?
Four riders — 3 in the backseat, 1 in the front seat.
Can a cab make multiple stops for one group of passengers?
Riders can request the driver to make multiple stops in a single cab ride, there is no limit to the number of stops you can request. The meter will continue to run throughout the trip and payment will be required at the end of the trip.
I feel uncomfortable hailing a cab from the street, what should I do?
Most hotels in the city have doormen that would be more than happy to hail a cab for you! Simply walk up and ask if they would be willing to get you a cab. As a kind gesture you may want to tip the doorman a dollar or two.
Airport to City Center
There are three main airports that service the NYC area; JFK, Newark, and LaGuardia. We have broken out the details by airport below.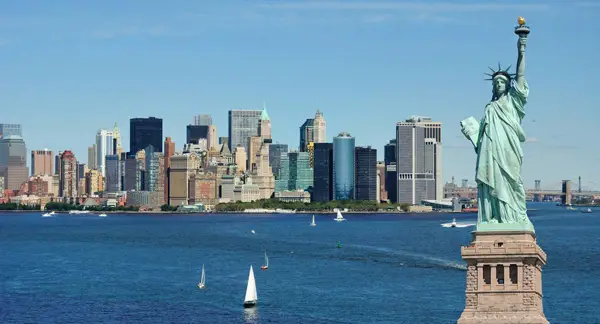 JFK
Located in Queens, John F. Kennedy Airport (JFK) is about fifteen miles from midtown Manhattan. There is a flat rate of $52 (plus tolls) for trips from JFK to Manhattan. Taxi stands are easily accessible and can be found outside every terminal. When you return to JFK from Manhattan, taxis will charge you the metered rate, plus any applicable tolls.
Newark
Located in New Jersey, Newark Airport is 16 miles from midtown Manhattan. Taxis from Newark airport to Manhattan are typically between $60 -$75. There are taxi stands located outside of every terminal making it easy to take a taxi from Newark. When you are returning to Newark airport from the city there will be a $17.50 surcharge.
LaGuardia
LaGuardia Airport (LGA), is also located in Queens (on the Grand Central Parkway). Taxis from LaGuardia into NYC take anywhere from 20-40 minutes. A taxi will typically cost between $15-$25 not including bridge tolls (these are an additional 3 dollars). Taxi stands are located outside each terminal for safe transportation.
Disputes
In case of a dispute or to report lost property, call the TLC at the following number: (212) 692-8294. Make sure to always get a receipt and to write down the cabs medallion number!