TaxiFareFinder is known for providing the public with estimated taxi and rideshare fares for almost anywhere in the world from Canberra, Australia to Cork, Ireland but did you know that TaxiFareFinder also has a few "easter egg" calculators that are hidden on our site? For instance, our site's creators once decided to have some fun and create a "Retro Chicago" Calculator that will calculate the cost of your taxi ride as if you were traveling in Chi-Town in 1946.
For fun we decided to test out the Retro Chicago Calculator to see how much things have changed over the past 70 years. We calculated the cost from the Four Seasons Hotel in Downtown Chicago to O'Hare Airport and it turns out that a lot has changed! In 1946 this ride only cost $1.27, today this would cost you about $53! Talk about serious inflation!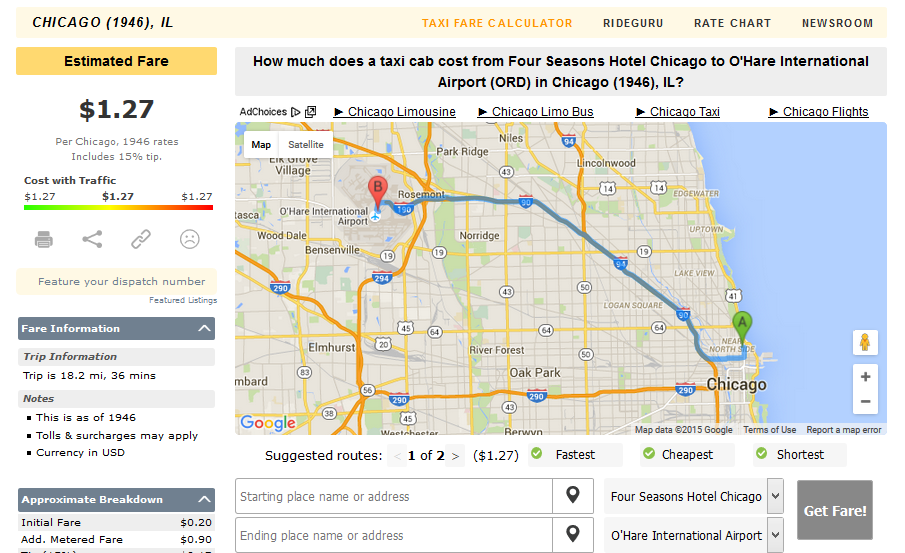 There are two other known easter eggs on TaxiFareFinder, the NYC Horse Drawn Carriage Calculator and the Boston 1865 Horse-Car. Try them out and have fun seeing what your fare would be if you were taking one of these methods of transportation!
Keep your eyes out for more hidden gems on our site as you never know when our developers are going to decide to plant an easter egg for our fans to find and enjoy!