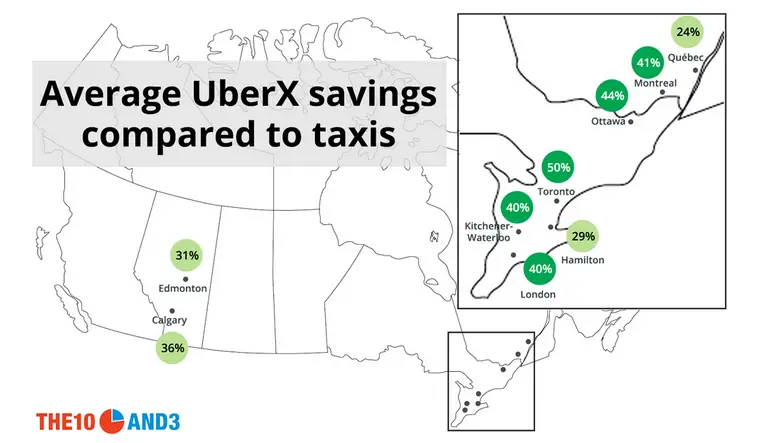 "People use Uber because it's convenient, easy and considered less expensive than traditional taxis. But how much cheaper is UberX — the company's low-cost option — than a cab in Canadian cities" 
The question, "Which rideshare or taxi company is cheapest?" seems to be popping up a lot lately and with good reason. Consumers feel better about themselves and their purchases only when they believe they have found the best deal on the market. Our RideGuru Fare Comparison Calculator helps many people across the world compare costs of potential taxi and rideshare rides to find the company that provides the best deal. While many users find RideGuru helpful for estimating ride prices, our friends at The 10 and 3 took the data from RideGuru one step further and carefully examined the average Taxi and Uber prices in nine Canadian cities to study each cities overall "uber discount".
According to their research, "In most Canadian cities with UberX, our study shows that the company charges between 30% and 50% less than what a taxi would charge for the identical route. Toronto, Ottawa and Montreal see the largest gain in picking Uber over a taxi, where customers save 50%, 44% and 41% of what their average taxi fare would be, respectively. On the other end, Quebec City (24%) and Hamilton (29%) see the smallest savings compared to the equivalent cab fare." In short, the amount you save by using Uber depends a lot on the city you live in or are visiting.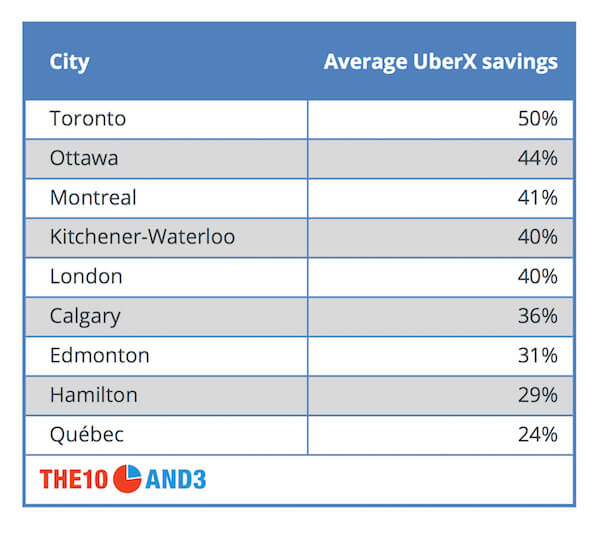 While Uber might come out ahead in terms of price, The 10 and 3 team want to remind readers that Uber might not always be the best choice over a cab, especially during times of peak surge pricing. According to the study, "each city has a unique point at which Uber fares need to rise before it becomes cheaper to hail a cab – in Toronto and Ottawa, it is roughly when fares are doubled, but in other Canadian cities it can be slightly less. As a rule of thumb, when surge prices pass the 2x mark, begin looking for a cab; unlike Uber, taxi rates remain the same, regardless of how busy they might be."
The TaxiFareFinder team also wants to remind rideshare users that unlike taxis, rideshare companies are not currently government regulated. Each company has their own rules for hiring drivers, including background checks and vehicle safety requirements! Stay safe and ride happy!
To view the whole study visit The 10 and 3