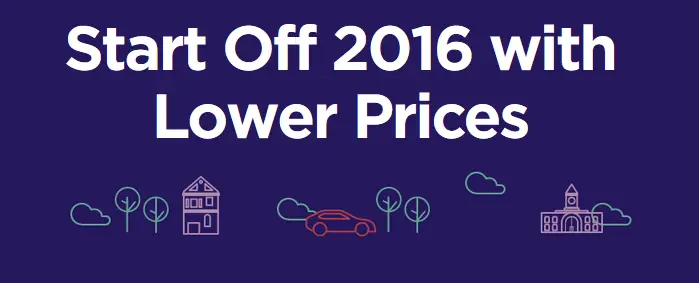 Last week the internet was abuzz with the news that Uber had lowered their fares in over 100 cities. Passengers were happy, drivers were upset, and Uber hoped everything would work out in their favor. However, Lyft wasn't going to sit back and let Uber win this battle without a fight and in a typical "anything you can do, I can do better" move, Lyft announced that they were going to lower prices as well in 33 cities.
Lyft announced their big price drop in a blog post stating , "Many people make New Year's resolutions to save money, work out more, and eat out less. We don't want that to leave you standing out in the cold, though — we think that with these lower prices, Lyft can help you keep your New Year's resolutions. During the new year — and all year long — affordability matters. We always want to be the most affordable option to get where you're going. Lowering prices during a seasonally slow time, like the cold winter months, helps us make sure you can always get safe, affordable rides wherever you're going." The new prices were said to take effect on January 15th.
Unlike Uber, Lyft insists that despite the price cuts they will still continue to maintain their position as the most generous of Rideshare employers. In a statement to Re/code, Lyft made it known that their company pays drivers more than any comparable service, and that drivers average hourly earnings increased 13 percent in 2015! It seems like Lyft's kinder disposition towards their drivers is working in their favor as Lyft drivers haven't yet started attacking the company for cutting into their wages.   Unfortunately, the same could not be said for the relationship between Uber and their drivers.
Full List of Affected Lyft Cities
Bakersfield, California
Baltimore, Maryland
Cincinnati, Ohio
Cleveland, Ohio
Colorado Springs, Colorado
Denver, Colorado
Detroit, Michigan
Fresno, California
Indianapolis, Indiana
Jacksonville, Florida
Los Angeles, California
Memphis, Tennessee
Minneapolis-St. Paul, Minnesota
Modesto, California
Norfolk, Virginia
Oklahoma City, Oklahoma
Omaha, Nebraska
Orange County, California
Orlando, Florida
Pittsburgh, Pennsylvania
Raleigh-Durham, North Carolina
Sacramento, California
San Bernardino, California
San Diego, California
San Francisco, California
San Jose/Silicon Valley, California
Santa Barbara, California
Sonoma/Napa Counties, California
Spokane, Washington
Tampa, Florida
Toledo, Ohio
Tulsa, Oklahoma
Washington, D.C.