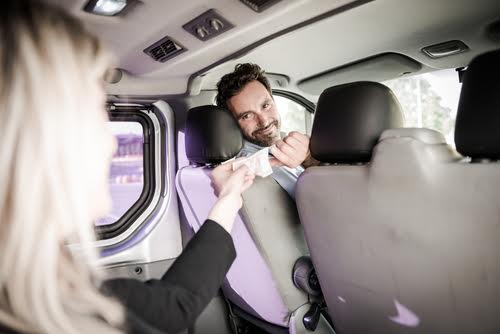 Driving for ride-share companies like Uber, Lyft or one of the smaller services can be an excellent way to earn income, meet people, provide a needed service and allows you to be an independent boss. For the skilled, knowledgeable driver, there is no better side business. One common belief is that all you need as a ride-share driver is a reliable car and smartphone. However, the best drivers want to make their riders comfortable and plan for those "what if" scenarios. Consider having these five items in your car to make your driving experience as smooth as possible.
• A Cord Collection — Think about how important your smartphone is to you. Your riders likely feel the same way. Providing a way for passengers to charge (common) smartphones is key. An aux cord is another excellent investment. You can listen to music or directions through your phone. This is especially important in areas where there are not many great radio stations available. It is up to you to decide if you want to allow passengers to choose some of the music; just remember, listening to someone else's music can get quite distracting, so don't risk anyone's safety.
• Trunk Caddy — When you're transporting passengers, you will likely be transporting a large amount of objects, too. Don't allow your riders' belongings to shift around in the trunk or the back of your SUV with no protection in place. A simple trunk caddy can keep your passengers' luggage, bags or other belongings organized — and even provide space for your items, too. These come in many different styles and sizes; there is certain to be a design that will fit with your vehicle style — from a cargo net design to a complicated caddy with multiple compartments.
• Vomit Bags or Can — This may seem silly, but if you do "bar runs" it's a must-have! Vomit bags will help protect your vehicle just in case a passenger had a bit too much to drink. Even if you avoid picking up passengers who look like they may be trouble, it's a good idea to be prepared — sometimes accidents happen when they are least expected.
• Water — Bottled water isn't a must, but it is certainly a nice touch. Providing cold bottled water (just by using a cooler) is one of the best things you can do for passengers. Plus, you will have water handy to keep yourself hydrated during those long shifts, too.
• Your Card — Depending on which service you drive for, this may be something you can order from the company or something you can print yourself. The idea is that you want your best passengers to return again and again! Be sure to keep a card handy — you want to be remembered. Some of the companies also offer referral cards for recruiting new drivers, which can allow you to gain an additional source of income.
If you want to get high ratings and succeed in a market that is becoming crowded in some areas, it is worth investing in these items and perhaps a few others — to help you stand out from other drivers. After all, you know you are an awesome driver, so why not show your passengers you are by providing the little details? One great thing about being a ride-share driver is that purchasing these items may be tax deductible (talk to your accountant for details, of course). With that in mind, these products could become quite affordable, as well as a great investment in your ride-share business.
Author Bio: Kimberly Quinones VP of Sales Midwest:
As Vice President of Sales in the Midwest, Kim oversees all aspects of our sales, service, and customer retention programs for Illinois Vehicle Auto Insurance.  Her market stretches from the far north, west and south suburbs of Chicago, to Indianapolis. Illinois Vehicle Auto Insurance does not cover rideshare drivers.