Need an Uber estimate? Want to know if Uber is surging in your area? Check out our brand new site, UberFareFinder.com! Our team here at TaxiFareFinder has been working hard to create a one stop shop for everything you need to know when you travel with Uber. UberFareFinder not only will estimate your Uber fare, it will also warn you if surge pricing is enacted in your area. This allows our visitors to see what their "real-time" fare is so you can choose the best ride option available. Once you have found an estimate you like, UberFareFinder allows you to dispatch a car directly from the site! Check it out.
When you first visit UberFareFinder.com, you will notice two blank fields, your "starting location" and "ending location". This is where you will enter your Uber trip details, keep in mind that UberFareFinder supports hundreds of cities around the world!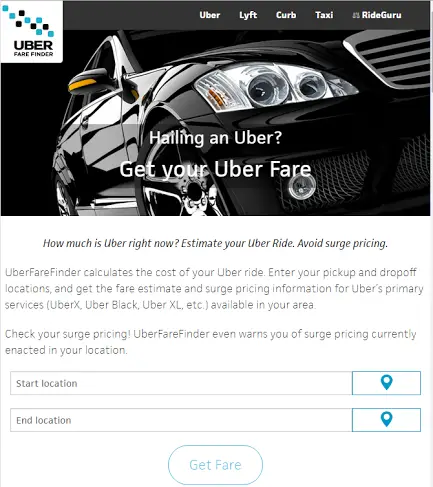 Pro Tip: When you enter your starting and ending locations you can use addresses, city names, landmarks, business names, zip codes, and even coordinates (latitude and longitude).
Once you have entered your starting and ending locations, UberFareFinder will estimate your fare for every Uber car service available in your area! If your location is surging, UberFareFinder will even factor the surge price into your estimate. See below for an example of a fare estimate in Boston when surge pricing was enacted.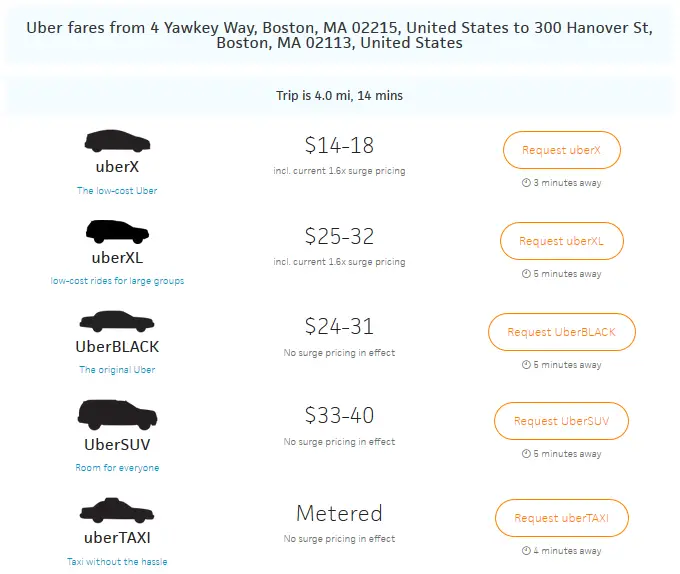 After you have searched for your fare and found an estimate you like, simply click on the "Request Uber" button which will open your Uber app and allow you to dispatch a car without having to enter any additional information.
Have you tried UberFareFinder yet? Let us know your thoughts below. Happy Fare Finding!