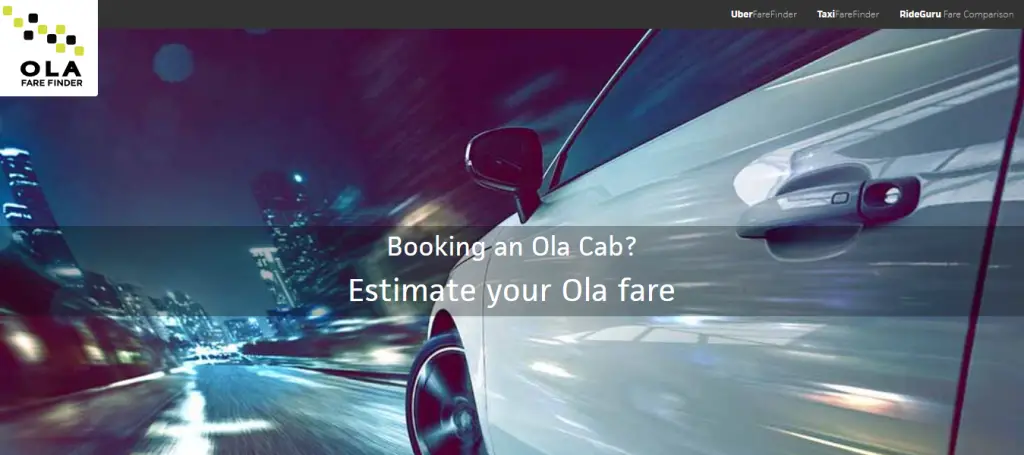 By now everyone seems to have heard of the rideshare giant, Uber, but did you know that in India, Ola, is actually giving Uber a run for their money? Ola is the Indian version of Uber and if you are planning a trip there any time soon you will want to check out OlaFareFinder to learn everything you need to know about traveling around India via Ola cabs.
OlaFareFinder not only will estimate your Ola fare, it will also warn you if Ola Peak Time pricing is enacted in your city or travel destination. This will allow you to see your "real-time" fare so you can choose the best ride option available and save that money! Once you have found an estimate you like, OlaFareFinder allows you to dispatch a car directly from the site! Check it out.
When you first visit OlaFareFinder.com, you will notice two blank fields, for your "beginning" and "ending" addresses. This is where you will enter your Ola trip details.
Pro Tip: When you enter your starting and ending locations you can use addresses, city names, landmarks, business names, zip codes, and even coordinates (latitude and longitude).
Once you have entered your TO and FROM locations, OlaFareFinder will estimate your fare for Ola Prime, Ola Micro, and Ola Mini! If your location has higher prices due to Peak Time Pricing, OlaFareFinder will let you know and will even update your price estimate.
After you have searched for your fare and found an estimate and service you like, simply click on the "Request Ola" button which will open the Ola website or app and allow you to dispatch a car quickly and easily!
Have you tried OlaFareFinder yet? Let us know your thoughts in the comments.