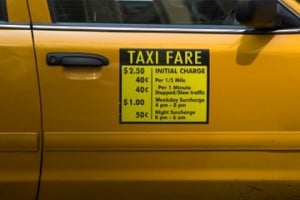 Taking a taxi can be confusing especially if you are new to a city. After the relief of hailing a cab correctly and jumping inside many people immediately fear that they are going to be ripped off. Our team at TaxiFareFinder is constantly fielding questions about how much a ride should cost and whether or not a customer paid too much.
While TaxiFareFinder can easily help you find the price of your taxi ride, we thought it would be beneficial to explain exactly how your taxi fare is calculated so you can be better informed as a rider!
How is My Taxi Fare Calculated?
Taxi fares can actually be calculated in 3 different ways, by Zones, Flat Rates, or Meters. Make sure to ask your driver which method he or she is using to calculate your fare.
The Zone System
The zone system is pretty simple to understand! When a city decides to use zoning to determine taxi prices, they essentially divided the city and surrounding areas into multiples sections. For the sake of this article we will say that our example city, San-Fran Tokyo City, has created 5 zones. Each of these zones will have a set price to one another. For example if you are taking a cab from anywhere in zone 1 to anywhere in zone 2, the price will always be $13, even if you are traveling from the very edge of zone 1 to the very opposite edge of zone 2. Zone 1 to zone 4 might be $25 and so on.
Here is an example of a city broken up into zones.
When you take a taxi that is calculating your fare based on zones, you might also encounter some unexpected fees, such as tolls, extra person fees, or luggage fees. Make sure you are aware of any extra fees before you enter the cab!
The Flat Rate System
The flat rate system is perhaps the simplest way to calculate a taxi fare. When using flat rates, a taxi will simply charge you one set price to get between two major locations, such as an airport and the city center. For example, if you are at San Fran Tokyo City Airport and need to get to your hotel in Downtown San Fran Tokyo, and the city uses flat rates, you will pay a one-time fee for your ride. With flat rates you will usually not be charged extra for any extra people, tolls, luggage, etc.
The Taxi Meter System
The taxi meter system is the most commonly used system to calculate a taxi fare. When the taxi meter is active, you are being charged on 3 main criteria, an initial fee, a per mile/km fee, and a wait time fee.
Initial Fee – A flat fee charged at the beginning of every ride
Cost per mile/km – How much you are charged for each mile/km of your journey
Cost per minute – How much you are charged for each minute of the ride where the car is moving very slowly or is standing still
Immediately, upon entering a taxi, you will be charged an initial fee. This dollar amount varies but is usually just a few dollars. The initial fee typically does not account for any distance, it is simply the starting amount for every ride.
Once the taxi starts moving, the meter will start adding up how many miles/kms you have traveled and will charge you the set price for each mile. Typically, you will be charged every part of a mile, such as every 1/10th of a mile to make your fare as accurate as possible.
If the taxi slows down (typically below 10mph) or is stuck still in traffic, the meter will switch over and will start charging you be the minute instead of by mile/km. This ensures that the cab driver is still getting paid for his/her time while sitting at red lights or in traffic.
To sum up how meters work, we have put together the following formula to help you better understand:
Base Fare + (Cost per mile * ride distance) + (Cost per minute * time in taxi while taxi is standing still or traveling very slowly) = Your Fare
Keep in mind that while taking a metered taxi, you will still be expected to pay for any tolls. You might also encounter some surcharges such as additional passenger's fees, luggage fees, or booking fees.
Lastly, we want to remind you to always remember to tip your driver! Generally tips range from 10-20% of the total fare.
Now that you understand all the factors that go into calculating your taxi fare, make your life simpler and try TaxiFareFinder's Calculators!
Happy Travels!