Cycling has seen a spike in popularity in recent years. A variety of factors play into the revitalization of bikes. Bicycles do not use gas, which is great for the environment and the wallet. It is a great way to get exercise and fresh air. In cities, you'll probably be faster on a bike than you would be in a car because of the recent increase in traffic. Bikes are a unique vantage point of your environment. It is hard to get the authentic feel of a place from a car. There are so many reasons to love bikes, but there are some cities who bike better than others.
Amsterdam, Netherlands has become synonymous with bicycles. They are everywhere. People are riding them all over the city. The population of bikes and people in Amsterdam are almost identical, but there are more bikes than there are people. Different bikes for different occasions.
Davis, California in the United States is the safest city in the country for cyclists. With a population under 70,000 people, it's not a big city. They are doing something right, though, to encourage cyclists and bike safety.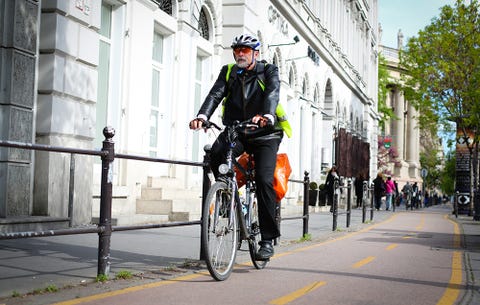 Budapest, Hungary is home to over 124 miles or 200 kilometers of bike lanes. Keeping cyclists safe is a great way to get people onto bikes. Designated lanes and paths in Budapest are attracting local and foreign cyclists to the beautiful city.
Paris, France should come as no surprise as a biking city. Not only is it stunning for cyclists. It is also the finishing line for the most famous bike race in the world: The Tour de France. They introduced a bike sharing program in 2007, and it has been hugely popular. Over 20,000 bikes are available for rental at 1800 stations around the city.
Dublin, Ireland is a great city for bikers. The city has its own bike sharing program called dublinbikes. An annual rental subscription will not break the bank at $22. That is $22 for an entire year. It is hard to say "no" to a nice bike ride through the streets of Dublin.
Berlin, Germany has made bike safety a priority with their 559 miles or 900 kilometers of bike paths. The geography is flat making it very easy to get around without breaking a sweat. 
Tokyo, Japan is a popular biking city for locals and tourists. 14% of Tokyo's commuters get to work by bicycle. A large amount of parking spots and bike paths are an incentive to hop on the bike to get around every day.
Rio de Janeiro, Brazil has been constructing bike lanes since 1992 and have recently started a bike sharing program. The beautiful scenery and beaches are a great place for bikers to relax or tourists to enjoy.
Cycling isn't just for the pros. People are hopping on bikes all over the world to get around their cities. Some cities have even built reputations as bike cities. Have you tried biking around any of these cities?