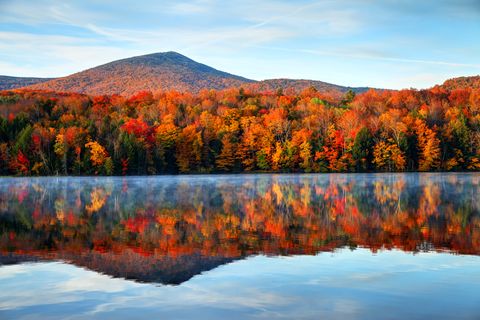 Fall is a unique time of year. The air gets crisp, the leaves turn beautiful colors, sweaters come out of the closet, and scents of apple and cinnamon waft through the air. Or at least those things happen in a perfect world. Many areas don't experience fall in the iconic way, which makes it the perfect time to take a vacation to enjoy it.
Portland, Maine
Portland, Maine is big enough but with small town charm. It's a gorgeous destination to enjoy everything a New England fall has to offer. Sitting on the ocean, it has close proximity to lighthouses, forests, cuisine, islands, boats, nightlife, and beautiful scenery.
Steamboat Springs, Colorado
Steamboat Springs, Colorado has all of the Americana you could want. Walking downtown in fall is like walking in a postcard. It's known for skiing, but before the snow falls couldn't be better. It's the quiet time of year, so you don't have to compete with hoards of tourists to enjoy the outdoors at Fish Creek Falls, Strawberry Springs, or hiking Mount Werner. There are tons of food options ranging from swanky to diner delicious.
Mount Hood National Forest
Mount Hood National Forest is two hours East of Portland, Oregon. It is one of the most beautiful spots in the country year round, but is breathtaking in autumn. There is so much to do and see if you love the outdoors.
Washington DC
Washington DC is perfect every time of year, but fall seems to be an underappreciated season for the city. With all of the monuments and memorials, there are always people visiting, but fewer people visit in mid to late fall. The city becomes enchanting as the leaves turn colors around the historic city. With so much to do and see, you'll never get bored or lack an Instagram moment.
Lake Tahoe
Lake Tahoe is known for its beauty in the summer and winter, but it is just as fun in the fall. With fewer tourists and more comfortable weather, you can still enjoy the same summer water activities. If you plan a late fall trip, you may even catch some snow.
Charleston, SC
Charleston, South Carolina is the East Coast version of New Orleans. It has a lot of similar charms, and that charm is elevated during autumn. It is boiling hot during the summer, so fall is the perfect time to enjoy all the history and food this city has to offer.
The Grand Canyon
The Grand Canyon is a treasure. Summer and spring are the busy season, but you'll still catch all the fabulous views at a lower cost and without the tourists if you go in the fall. The heat and humidity drop making the scenery even easier to enjoy.
When you find yourself caught up in the autumnal beauty of your destination, remember you can always use TaxiFareFinder to find and estimate the cost of your transportation. No matter where you find yourself, autumn is the perfect season to vacation. And everywhere has something special to offer.