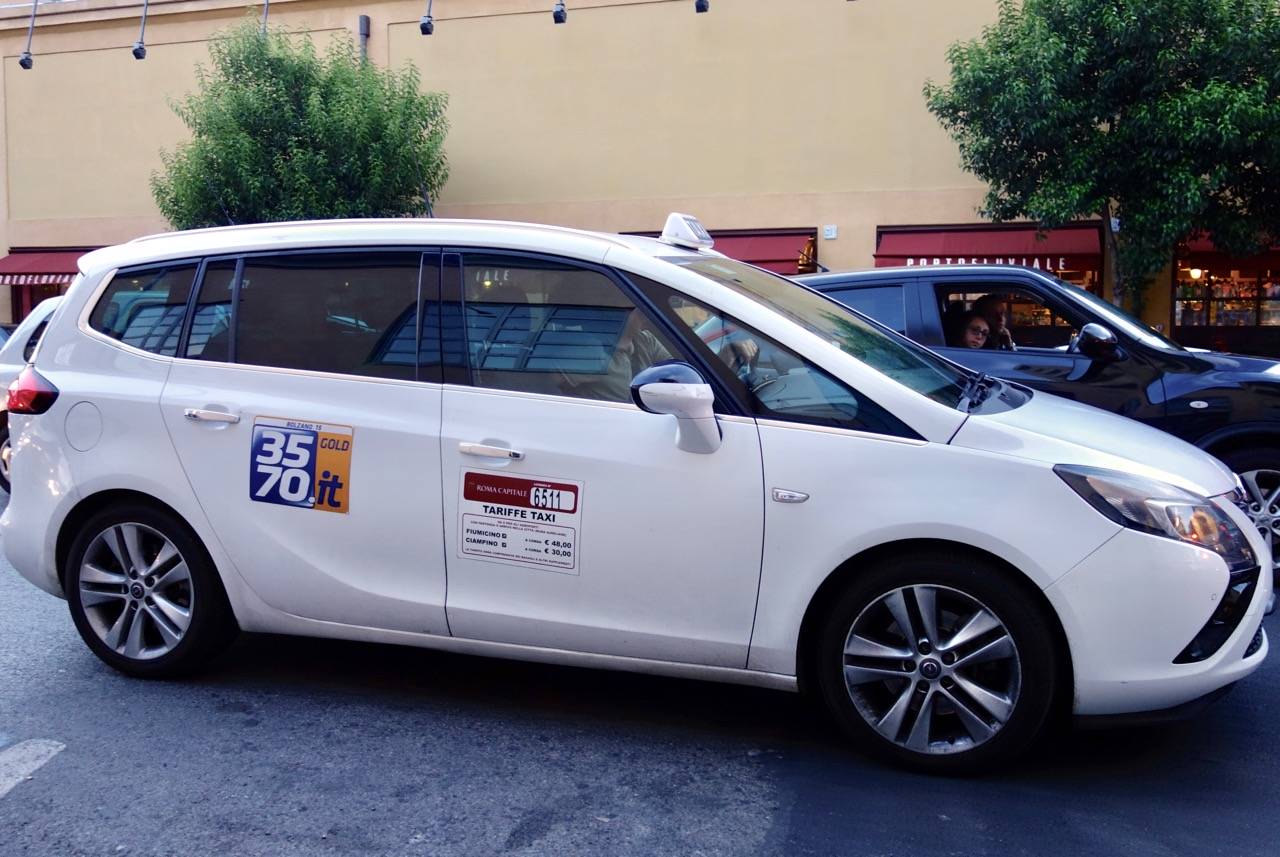 When in Rome, enjoy the city from the backseat of a taxi.
Hailing a taxi in Rome requires finding a taxi stand. They are easy to find and all over the city. A simple orange sign with the word "Taxi" will be the place you want to go. Often times, there is a line of taxis waiting to pick up passengers at the stand. It's first come first serve, so be kind and don't cut in line. If there are no taxis, just wait; one will show up shortly. On holidays or during rush hour, it might take a couple minutes longer than other times. If you don't want to find a stand or risk waiting, you can always call a taxi operator. Your taxi will usually pick you up in five minutes or less. The driver will turn on the meter when they start driving to pick you up, so you will pay more than you would otherwise.
Licensed and legal taxis in Rome are white. They are easy to identify. Taxis are modern vehicles with air conditioning, but many drivers prefer to have the windows rolled down. If you're there in the summer, prepare to enjoy the weather.
Taxi Fares in Rome
Taxi fares are standardized and regulated, so you will pay the same fare no matter the taxi. Taxis have meters, which will determine the price of your taxi ride. Fares begin at €3 between 6:00am and 10:00pm Monday through Friday; €4.50 Saturday, Sunday, and holidays; €6:50 everyday between 10:00pm and 6:00am. For the first €11, you'll pay €1.10 per kilometer. Between €11 and €13, you'll pay €1.30 per kilometer. Over €13, you'll pay €1.60 per kilometer. Don't make your driver wait for you, or you will pay €27 an hour. Your first suitcase is free; €1 is added for every additional suitcase. €2 surcharge is added for trips to and from the Termini station.
Taxis are equipped with credit card machines, so you can usually pay with a credit card, just not an American Express. You should carry cash just in case because the machines have a tendency to be down for unknown reasons. You don't need to tip in Rome because it is not the custom.
There are two airports in Rome. The Ciampino and the Fiumicino. The nice thing about taxis to and from the airport is the taxi prices are fixed as long as you are traveling inside the Aurelian Walls. The price covers up to four people and there is no surcharge for luggage. To or from the Ciampino airport will cost a total of €30. The Fiumicino airport has a higher price of €48. You can always use TaxiFareFinder to find a taxi and figure out your fare on your travels in Rome. It's a city of history and culture. Don't worry about transportation, just enjoy the sites.