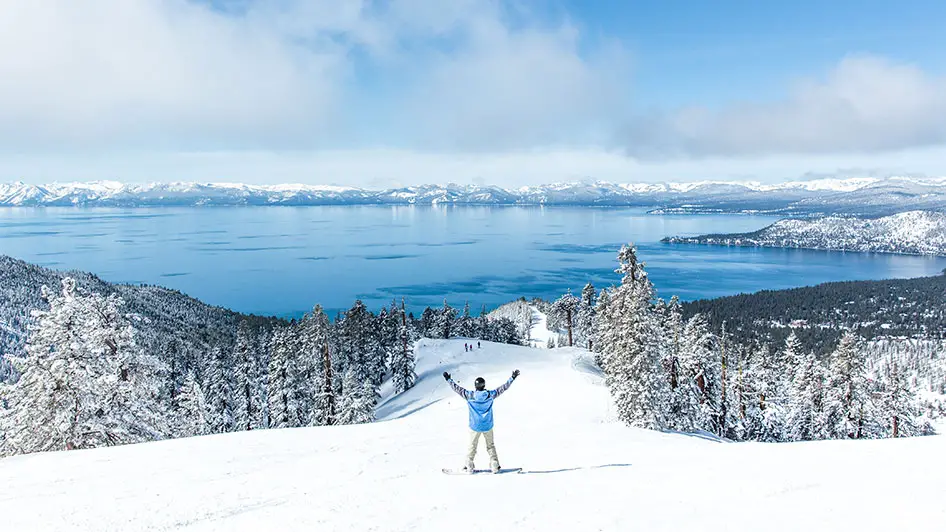 Lake Tahoe is a gorgeous location to visit year round. It is especially enchanting during the winter months when everything is covered in a layer of snow. The mountains surrounding the lake are perfect for skiing, snowboarding, and all sorts of other snow activities. Located on the California, Nevada border, it is a semi remote location. Three hours from San Francisco and hour away from Reno. Travelers have options. If you're flying into San Francisco and the Bay Area, you will definitely have to rent a car to make it to Lake Tahoe (without spending a fortune on taxis and Ubers!). However, if you fly into Reno, you don't have to rent a car at all.
Reno airport is a great place to fly into because it's a small regional airport but big enough to have amenities. Renting a car can be a pain. Once you're on a resort in Lake Tahoe, there's really no need to have a car anyways. If you're staying in South Lake Tahoe, everything is walking distance away. One of the best things about the Reno airport are the shuttles to Lake Tahoe. There are several to choose from depending on your needs.
North Lake Tahoe Express will take you from Reno to the areas on the North side of the lake. It has several stops to resorts, attractions, and activities around the lake. There are group discounts and daily service between the two areas.
South Tahoe Transporter operates daily between Reno and South Tahoe with several stops at resorts in South Lake Tahoe. It's run by Amador Stage Lines.
South Shore Services by Tahoe Transportation District will get you around to the different resorts in South Lake Tahoe and to the surrounding areas of the beautiful Carson Valley and the Nevada state capitol, Carson City.
Diamond Peak is a free shuttle between Incline Village and Diamond Peak. It's a great way to get short distances without having to Uber or rent a car. Where the shuttle drops you off at, you will have easy access to the slopes and ticket window.
Tahoe Truckee Area Regional Transit is a great option to get to the West and North sides of Lake Tahoe. There are tons of routes with stops at resorts and locations along the way.
Lake Tahoe is a great place to visit and enjoy the great outdoors all year long. The winter can be a crazy time to drive in the area because of the snow and weather. Why risk the stress of being behind the wheel on your vacation when you can let professionals get your to where you're going. With no shortage of shuttles to and from Lake Tahoe and shuttles to get you around the area, there's no reason not to!