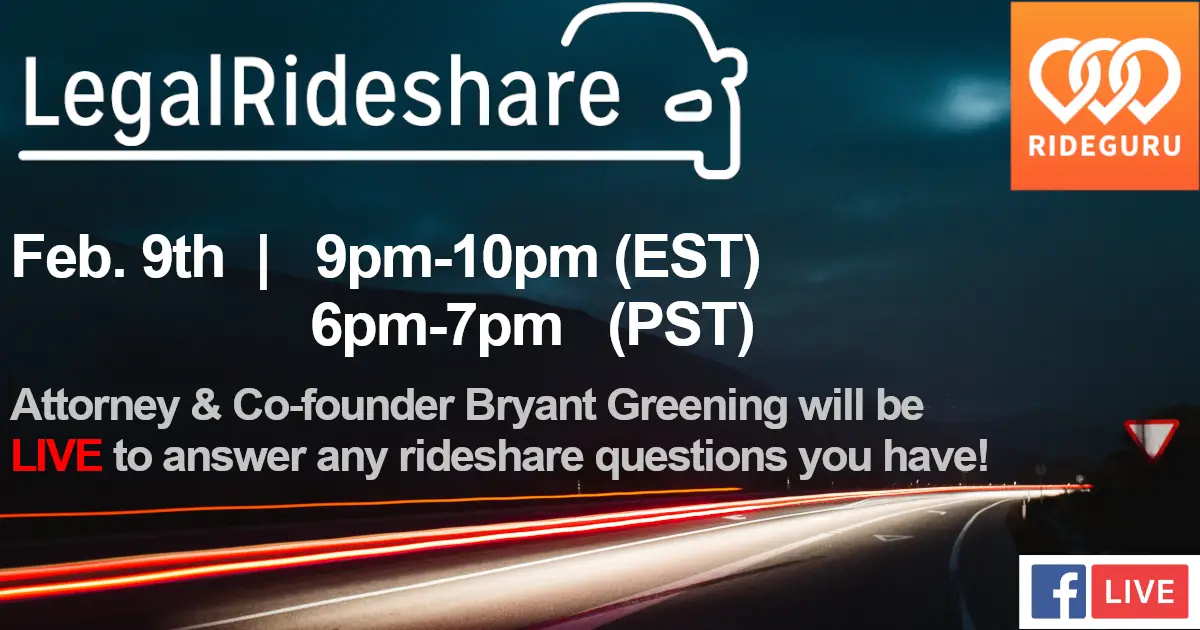 This blog post originally appeared on RideGuru this morning. They are having a free livestream with Legal Rideshare to answer any and all rideshare questions. Take a look below at the original blog post for the details and which topics they plan to cover.
Do you have a legal question for a lawyer specializing in Rideshare issues? Would you like free legal advice from the comfort of your home?
This Sunday, February 9, 2020 at 9PM EST, RideGuru and LegalRideshare will be hosting a livestream event to answer all your rideshare related questions. Attorney and Co-founder of LegalRideshare, Bryant Greening, will be spearheading the livestream to answer all your legal questions and update drivers on recent events that impact the industry.
Bryant will be covering topics that range from how to handle accidents, rideshare insurance, dash cams, deactivations, and dealing with minors, child seats, and service dogs. There will also be additional time dedicated to answering your questions.
We all know legal advice isn't cheap and we hope many drivers can take advantage of this unique opportunity to ask their questions and get advice free of charge. 
If you are interested in joining us on February 9th reply to our event on Facebook. The livestream event will be taking place on LegalRideshare's Facebook page on Feb 9th.