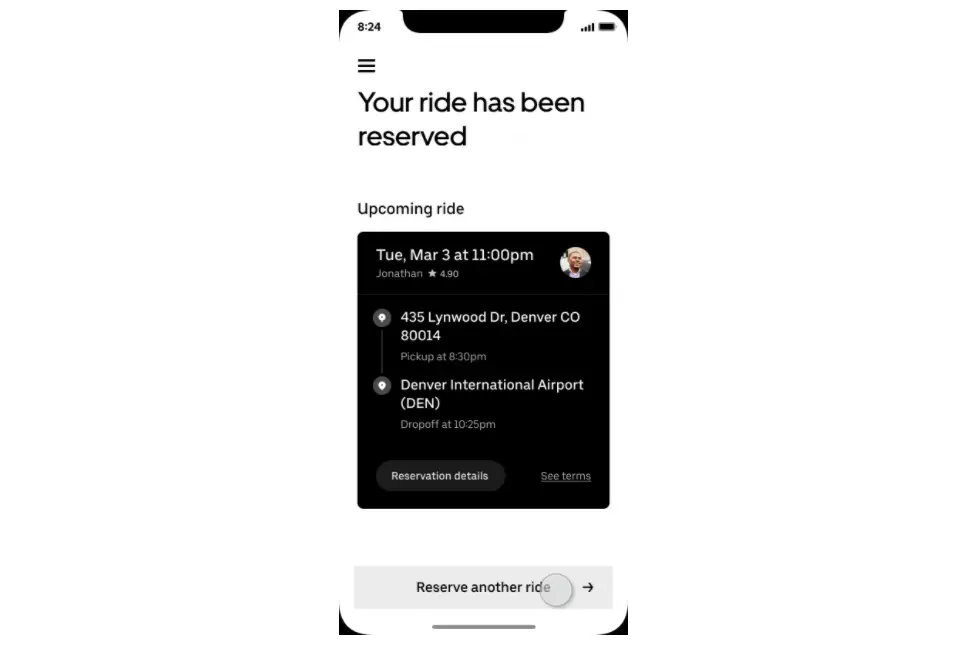 Uber has heard your feedback and starting next week Uber is rolling out guaranteed advanced bookings in over 20 US cities! Uber's newest initiative, Uber Reserve, helps riders who are looking for more ride assurance when requesting important, time sensitive trips such as to the airport or a doctor's appointment.
According to Uber, Uber Reserve will offer the following enhanced features:
A streamlined user experience where you can quickly and easily book your trip or see upcoming trip details. 
Advance Booking: You can schedule trips 2 hours to 30 days in advance, with your fare presented upfront as usual. 
Upfront driver matching; After you request a trip, Uber offers your request to interested drivers with whom you'll connect in advance. This takes the guesswork out of who to expect at pickup before your Reserve trip even starts. And if you've previously selected a Favorite Driver, your request will be offered to them first! 
Additional 15 minutes of waiting time: This means you'll have ample flexibility around your departure if you need it.
On-time pickup guarantee: For all reservations made at least two hours in advance, your pickup time is backed by an on-time guarantee in which you'll receive $50 in Uber Cash if your ride hasn't arrived when scheduled. 
Hassle-free air travel! Not only can you now reserve your ride to and from the airport but you will also gain access to enhanced curbside pickup, an hour of complimentary wait time (Uber has connected their platform to airport departure and arrival KPIs so it can track flights and automatically adjust reservations if a flight is delayed or early), and you will even have the ability to order food in advance from airport restaurants for pickup.
Not only is Uber Reserve beneficial to riders but it also gives drivers more control on how and when they work. With pre-planned trip options, in addition to on-demand trips, drivers can create a schedule in advance that works best for them. 
Airport trips are a key market vertical for transportation companies as the rides are typically longer and as a result have higher fares. According to Uber, over the last week in September, they have seen a 15% increase in airport trips, which gives them hope that their new reserve function will be a success. After announcing immense loses last quarter, Uber may be banking on their Uber Reserve feature to drive additional business and revenue growth.
Additionally, according to TechCrunch, Uber is also going to be "offering a 'Ready When You Are' service that falls somewhere in between on-demand ride-hailing and booking in advance, without an increase in fare. Customers can request a ride once they land with options to be picked up in 20 minutes, 10 minutes or as soon as possible. This feature is being piloted at six airports in the U.S. and Canada, but Uber says to expect a larger rollout through the start of next year."
To start, Uber will be launching Reserve with only the Uber Black and SUV options but they hope to extend the service to UberX, Comfort, and XL by the end of the year. 
Uber Reserve will be initially available in Atlanta, Austin, Charlotte, Charleston, Chicago, Dallas, Denver, D.C., Fort-Myers / Naples, Houston, Las Vegas, Miami,  Milwaukee, Nashville, New Jersey, New York City, New Orleans, Orlando, Philadelphia, Phoenix, and Seattle.