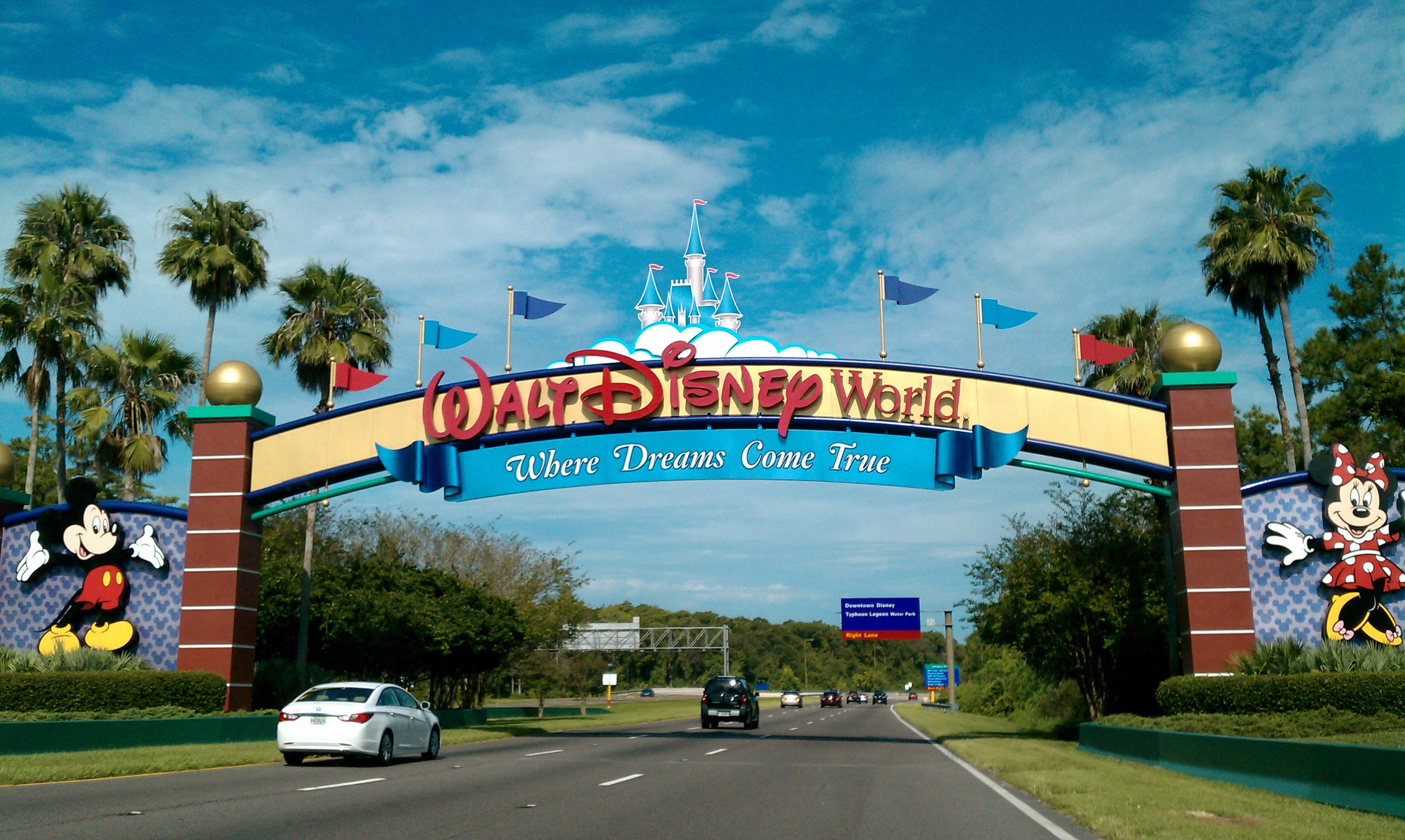 As of January 1st, 2022, Disney is discontinued their Magical Express Bus service to and from Orlando Airport. The Magical Express was always a great free perk of staying at an onsite Disney Resort. Unfortunately, now guests of the Magic Kingdom, will have to find their own means of transport to the most magical place on earth. 
Below we are outlining the various ways to travel between Walt Disney World and the Orlando Airport. Depending on your budget, party size, and time constraints, one option may be better than another.
1. Uber or Lyft
Of course, after the Magical Express, the next most common way to go between Walt Disney World and the airport is by utilizing a rideshare app such as Uber or Lyft. This is still a popular option and using a rideshare service to get around is typically fairly quick and easy.
However, it is important to note that using Uber or Lyft can get expensive quick. Using the RideGuru Fare Comparison Calculator we can see that an UberXL trip (a car that can fit up to 5 passengers) would cost around $55 before any surge pricing. If you have a smaller group (up to 3 passengers and minimal luggage), you could get away with the slightly cheaper UberX vehicle which would cost around $37, again before any applicable surge pricing. While these options might work for some people, many families traveling to Disney have little children and will need an Uber car that provides car seats. As a rule of thumb, you should add about $10 to each estimated Uber price if you will need the vehicle to include car seats. For example, an UberX Car Seat will cost you around $47. 
Please note that if Uber and Lyft are surging when you arrive at Orlando Airport, you can always compare the cost of your "surge priced rideshare" with a traditional taxi using RideGuru to see if a traditional taxi would be more economical! 
2. Renting a Car
The second most popular means of transportation for Disney guests is through renting their own car. Luckily, Orlando International Airport has many rental companies situated right at the main airport, making it easy to pick up a rental car. One benefit of a rental car is you are on your own schedule and you can run any necessary errands during your stay at Disney. Rental cars have been in low supply recently, so if this option sounds best for your traveling party, you will want to book one as quickly as possible. Keep in mind that with the current rental car shortage, prices have increased during the past year. Currently a rental car for a one-week period would cost between $370 and $430 depending on the size of the car. Keep in mind that these prices do not include car seats which would be an additional fee per day. Another hidden cost of a rental car is Disney's daily hotel parking charges. Unfortunately, Disney charges $15 per night for parking at Value Resorts, $20 per night at Moderate Resorts, and $25 per night at Deluxe and Deluxe Villa Resorts. These parking fees can really add up, making renting a car for a week at Disney a more expensive choice, however, some families love the freedom that comes with having their own vehicle especially if they also plan to visit Universal.
If renting a car for a week is not currently in your budget and you are not comfortable utilizing Uber and Lyft, you could also always rent a car for the day when you arrive. Once you get to Disney, one member of your party would simply have to drop the car off at Disney's Car Care Center and take their complimentary shuttle back to the hotel. When you leave Disney, you would do this in reverse. Of course, this method would take more planning and time our of your vacation but would save you a lot of money!
3. Use a Shuttle Bus Service
There are numerous companies who offer shared shuttle ride services between the airport, hotels, Disney and Universal in Orlando. One of the more popular shuttle services is Mears. In fact, Mears was the company contracted through Disney to run their Magical Express Program. Starting in January of 2022, Mears has announced that they will be offering a Mears Connect service to shuttle travelers between the airport and Disney World. We imagine this will function fairly similar to the old Magical Express, however, there will now be a cost associated with this service. According to the Mears Connect Website, introductory pricing is $32 round trip per adult ($16 one way) and $27 round trip per child 3-9 ($13.50 one way). Keep in mind that these prices are labeled as "introductory" and may go up!
The one major downside of using a shared shuttle service is you may have to wait for the shuttle to make extra stops making this choice impractical if you are in a hurry.
4. Other Private Car Services
Of course, you could always choose to ride in style and book a car (or limo!) from a private car service. While this will undoubtedly be the most expensive option, if you are celebrating a special occasion or have the financial means it may be worth it to have the ease and security of a professional black car!
5. Brightline (coming soon)
In 2020, Brightline shared the news that they were planning to complete a new rail route between Orlando Airport and Disney springs. While this service won't be available until at least 2023, travelers who opt to use this service could easily hop on the Brightline train at Orlando Airport and then catch a Disney bus to their hotel at Disney springs.
Keep in mind, for all of these options you will want to factor in a 10-20% tip for your driver! 
This article first appeared on Ride.Guru. For more tips and information please visit the RideGuru forum.