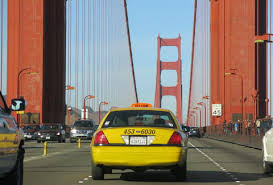 If you find yourself in San Francisco without a car, taxis are a great way to get around. It is a very crowded city, so renting a car and finding parking where you go is a huge hassle. Taxis are affordable and convenient in this gorgeous and interesting city.
Hailing a Taxi in San Francisco
Hailing a taxi in San Francisco couldn't be easier because they are everywhere. If you don't want to hail one, you can always call and order a taxi directly. If you feel like using an app to hail a taxi, you can use the Yellow Cab app. There is no easier way to hail a cab than by standing on the street. You can easily tell which taxis are legal because every cab will have "San Francisco TaxiCab" written in big letters on the side and rear of the vehicle. There will also be a TAXI sign on the hood of the car. The taxi is available to pick up passengers if the light is turned on; if the light is off, then they are not able to pick up passengers.
To hail a taxi in San Francisco, you want to make sure you are visible to the driver and raise your hand. You have to interact and make sure they see you, otherwise, taxis may continue to drive by without stopping. Some but not all taxis accept credit cards. Cash is accepted by all taxis, but if you need to pay with a card just ask before hopping in. The drivers are incredibly knowledgeable about their city, and they can often point out interesting locations, facts, or places you shouldn't miss.
Taxi Fares in San Francisco
Fares are standard for all companies due to regulations, so it doesn't matter which taxi company you choose. The fee starts at $3.50 for the first ⅕ of a mile. It is an additional $.55 for every ⅕ after that. If you wait in traffic, it is $.55 a minute. If you are being picked up at the airport there is a $4 surcharge. To get to and from the airport is usually between $45 and $50. Other than the airport, most trips are between $12 and $20 around town. If you go more than 15 miles out of town, you will be charged 150% the metered fee.
Traveling with Children in San Francisco
Traveling with children can be great, but also requires a little forethought. San Francisco requires children to be in a car seat while in a taxi. You will need to bring your own car seat or call ahead to see if they can provide one for you. There are great travel car seat options out there if you do choose to bring one with you.
San Francisco Muni or Red Lanes
Taxis in San Francisco are allowed to use the Muni, or Red Lanes. Other vehicles are not allowed to use these lanes, but taxis are, which means you can avoid some traffic. The use of Muni lanes means you can get to where you're going faster. 
San Francisco is also home to the greenest taxis in the country; many are hybrids. Taxis are required to go under regular safety, emission, and meter inspections to ensure they are running at their safest and greenest while not over charging you. 
San Francisco is a great city with lots of transportation options. Taxis are a tried and true way of getting around because they are efficient and cost effective for locals and tourists alike.