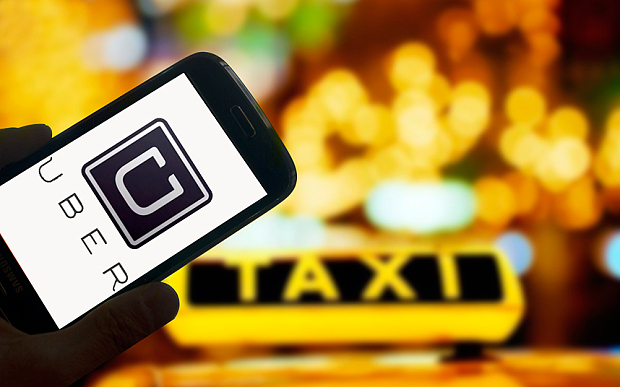 At this point, you've no doubt heard of Uber.  They have revolutionized the way people get around, and have reinvented the idea of taxi transport, across the world.  Although they continue to unquestionably lead the emerging ridesharing industry, they are also innovating new ways to bring additional methods of transportation to customers outside their initial UberX offering.  One such offering is UberTAXI.

What Is UberTAXI?
For those familiar with the ride-share industry, UberTAXI functions very similarly to the other taxi focused ride-share offerings in this space.  Customers can request licensed taxi cabs directly through the Uber mobile app – and as opposed to traditional cab service, can then track and pay for the taxi service entirely within the smartphone app.  The fleet that Uber uses for this service are regular taxi cabs, yellow cabs, and black cab cars.  All UberTAXI drivers are registered in Uber's system for security and background screening.

UberTAXI is currently available in four cities within the US (Boston, Honolulu, New York City, and Washington, D.C.) and multiple others across the world.  Below are the current international offerings:
Incheon, South Korea
Seoul, South Korea
Athens, Greece
Bangkok, Thailand
Berlin, Germany
Dublin, Ireland
Istanbul, Turkey
Kuala Lampur, Malaysia
Montreal, Canada
Singapore
Sydney, Australia
Taipei, Taiwan
Tel Aviv, Israel
Tokyo, Japan

How the Service Works
The Uber app allows users to request a ride via their Android or iPhone.  In the case of UberTAXI, the user will be given the option to hail licensed taxicabs only.  For the service, you will pay an additional $1-$2 booking fee.  Once a driver is signaled through the app, it usually takes less than 10 minutes for a car to arrive at your door.  During this brief wait period, Uber allows you to track the car's location so you know exactly when to expect its arrival.  The app will track the metered fare, an included 20% gratuity and will provide a cashless payment process by charging all Uber rides to an on file credit card attached to your account.

Why use UberTaxi?
As is the case with anything these days, it's important to know your options and to decide if and when UberTAXI is the right choice for you.  In most cities, there will be many other options, even just within Uber itself, let alone within the ride-sharing industry.  Should you use Uber or Lyft?  UberX or Uber Taxi?  The choices can certainly be daunting.
Likely, your choices should be narrowed by a few factors:
Are you looking for the cheapest fare or do you have flexibility to spend money for additional comfort or services?  Also, is it a busy time where you are?  If so, there may be surge pricing on some services, and not on others.
Many rideshares now offer higher quality vehicles, more professional drivers, or even safer service.  Are these factors important to you?
Some cities only allow rideshares in certain locations – for instance sometimes the airport can be a restricted area.  Taxis are generally allowed where rideshares are not.
Other details. Are you a woman looking for a woman driver only?  Do you have a small child and need additional safety equipment for your ride?  Many ride-shares specialize in niche types of transport, and if you need something specific you should choose a company that can do what you need well.
Based on some of the above factors, UberTAXI might be a good or a bad option for you at any given time.  For example, during surge pricing many rideshare services like UberX will carry an added cost, but the UberTAXI fleet will always stick to the standard metered rates.  Also, depending on the city, airport, or other area you are in – one of your only options may be UberTAXI!
Try searching for your ride using the RideGuru Fare Comparison Calculator to learn which rideshare options are available in your city.
This post originally appeared on RideGuru.