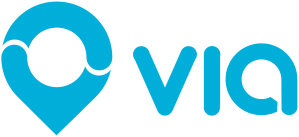 Unless you have been living under a rock for the past few years you will have undoubtedly heard about Uber and Lyft by now. The rideshare industry is booming and city goers across the globe love being able to hail a car with just a press of button. What you might not have realized though is that Uber and Lyft are just a couple of the many rideshare options on the market. New companies are springing up almost daily and we try our best to bring you the 411 on each and every company we come across so you can decide which company is best for you! Today we want to highlight Via, a fast paced rideshare app that takes multiple passengers heading in the same direction and books them into one shared vehicle. Or as Via puts it "Think of us as a bus that's smart enough to come when you want it and where you want it."
The best part about Via is that rides are only $5 -$7 (For riders who pre-paid for their rides with Ride Credit, all rides are a set $5 plus tax fare. For riders who wish to pay-per-ride, rides are charged at $7 plus tax per ride.)! We have to admit that is a pretty cheap fare, just a few dollars more than a ride on the subway, and if you choose to bring additional passengers with you they are charged only half price!
The current downside is that Via is only available Mon-Fri from 6:30am – 9pm between 110th St. and Canal St. in Manhattan. However, Via has mentioned that they are planning on expanding, so hopefully soon you will be able to hail a Via car in other cities.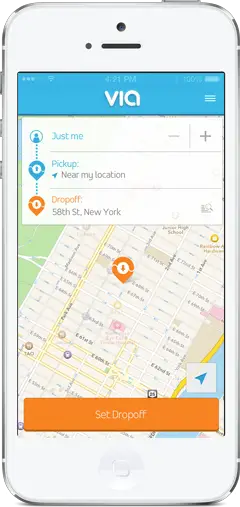 How does Via work?
The Via app is available for free on both iPhone and Android devices. Once you sign up and open the Via app you will be prompted to select your pick up and drop off areas. Via will then calculate your actual pick up and drop off locations, which will be within a couple blocks of your desired location points. Via states that this helps them to keep their trip times as short as possible even though they are picking up multiple people. Once your vehicle picks you up you should expect to already see passengers in the car or to pick up some other Via-goers along your route. The number of passengers you might share a ride with will vary but capacities range from 3-5 passengers depending on the make and model of the vehicle picking you up.
One great benefit of Via is that you can pay with a variety of commuter benefit debit cards such as WageWorks, TransitChek, Beniversal, eTRAC, Commuter Check, and Benefit Strategies.
The next time you find yourself between 110th St. and Canal St. in Manhattan about to hail an Uber, try downloading the Via app and giving it a try. You can't really beat their $5 flat rate price!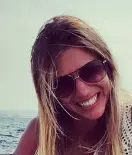 About the Author
Lilly is the marketing manager for TaxiFareFinder.com. She has a dream to travel to 100 countries during her lifetime but meanwhile is filling her time by instagramming pictures of her puppy and trying to figure out how to get an acceptance letter to Hogwarts.