It's the moment when your taxi driver gives you the final price for your cab ride, and it is significantly higher than you expected.  It is hard to not instantly get angry and overreact, convincing yourself that the driver is attempting a scam.  However, in a fare dispute, it is essential to stay calm and polite and attempt to understand the reason for the charges.
Many taxi fare disputes can be attributed to the fact that there are various charges that can be incurred during a taxi ride and how they are not publicized and common knowledge. Such charges include: flag drop, per mile charge, wait time, toll charges, airport fees, and others. Many of these costs are not even added to the total until the very end of a ride, so oftentimes, it appears you are being charged excessively and unfairly.  Many taxis post the taxi rates, fees, and sample fares; however, they are often not standardized, calculations are complex with various factors, and through unfamiliar streets, figuring it out is quite a challenge.
So, what to do when in the middle of a fare dispute? 
Ask for a receipt, right away.  Taxis are required by law to produce a receipt when requested.  This will display the initial fare, metered fare, tolls and any additional fees incurred during your ride.   With the receipt, you should be able to identify where you could have been overcharged or where you were fairly charged but unaware.
Collect all information. If the taxi driver cannot or will not produce a receipt that itemizes charges, then you may have a problem. However, remain calm, you can still help yourself. At this point, it is important to collect and record as many details as possible. Document the cab company, cab vehicle number, the name of the cab driver, and the medallion or license number. (Most of these information can be found on the dash of the car.) Also, write down the date, time, and beginning and ending addresses of your trip. If you happen to have a camera accessible, take a picture of the final meter as well as the license number; these will both extremely useful for the authorities to determine legality and fairness in the situation.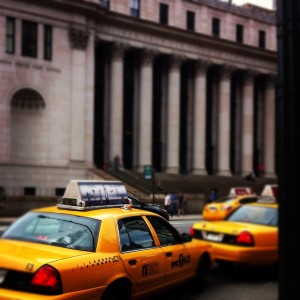 All of these details will make your case stronger when reporting to authorities later.  After this is completed, use your judgment as to what the next step should be.  If it seems as though you will have to pay the fare to exit the situation, try to pay with a credit card, as this will leave proof of payment.  If possible, exchange personal information, name and phone number, as you would in a car accident, and then pay the fare.  Paying with cash is risky because it is unlikely that payment can be reversed or even proven, but safety comes first and paying the fare may ensure this.   If at any point during this process you feel uncomfortable or threatened, step out of the cab and ask the driver to do the same.  Freedom from the enclosed space may be beneficial for both of you.
Talk about it: to everyone! Now it is time to take matters into your own hands.  Contact the taxi commission first: you can find your city's commission easily online by performing a general search.  Some examples of taxi authorities are: the NYC Taxi Commission, www.nyc.gov/tlc, and the Boston Police Commissioner, http://www.cityofboston.gov/police/taxi.asp.  In most regions, taxi drivers operate under their own professional licenses; use his license number to report the individual driver to the commission. The taxi commission in each city has control over the status and good-standing of each driver and has the power to ticket, penalize, suspend, and revoke the licenses of cab drivers.  Taxi drivers take this authority seriously, so it is your best shot at some sort of resolution.
If the taxi operates under an organized company, contact them too.  Utilize social media if you must: post your complaint on the company's Facebook wall or tweet at the company.  There are plenty of forums online to share your story and discover if anyone else has had the same experience.  There is even a mobile app called Report a Taxi to submit grievances to the Taxi Commission.
Get the police involved.  If you are still unhappy with the situation, call the local police and report the incident.  Report the incident using all the details recorded and be confident and clear when explaining the situation.
Few more tips.  final piece of advice is to ask the driver for an estimated fare before beginning your trip; this will provide a frame of reference.  Do this in addition to using taxi tools, such as the TaxiFareFinder mobile app, where you can retrieve a fare estimation of a trip quickly on your smart phone and the situation could be avoided completely.  Just remember: give the driver the benefit of the doubt and a chance to explain the charges, but if you truly disagree with the fare, stand up for yourself!