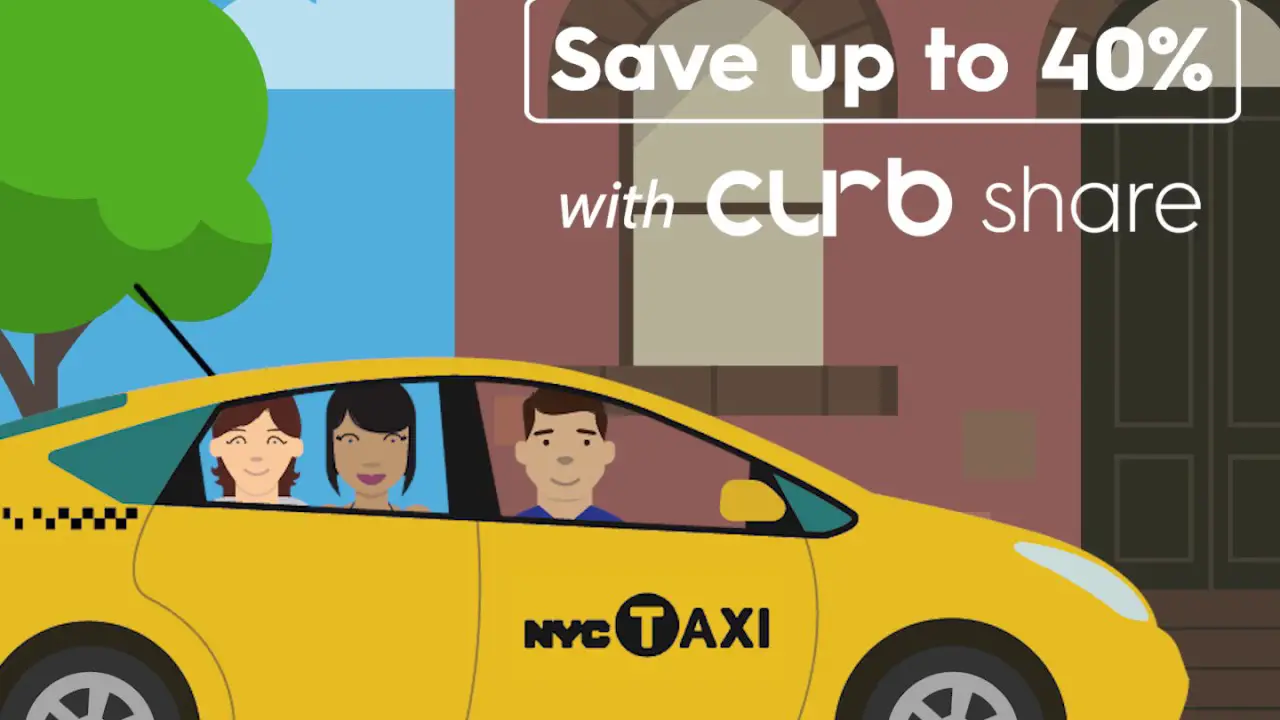 Curb, the popular taxi hailing app, now has a new ride option, Curb Share.
Curb Share is similar to an UberPool or Lyft Line. During a Curb Share ride you will be matched with other riders heading in the same direction as you. By sharing your ride with other travelers, you can save up to 40% off your regular taxi fare!
Request a Curb Share
To use the Curb Share feature, follow the below steps.
Open the Curb app on your smart phone.
Tap on the center taxi button and select "Share".
Enter your pickup and dropoff locations, then tap "Request Curb Share".
Lastly, you will be asked to input the number of passengers in your party.
Tap "Confirm Pickup & Book". At this point, the app will direct you to walk to the nearest pick-up location (usually the nearest intersection).
Curb Share is currently only available in New York City in the areas of the Upper West Side, Upper East Side, Midtown, and Lower Manhattan.
What is Curb?
If you are new to Curb, Curb is a taxi hailing app, which allows users to hail traditional taxis through their application.
Curb offers both a "Ride Now" option, which allows users to get a yellow taxi on demand, and a "Ride Later" option, which allows users to schedule their taxi pickup up to 24 hours in advance. Further, through Curb's unique "Pair and Pay" feature, travelers have the ability to street hail a taxi and then pair their taxi cab number within the Curb app so they can pay the final total through the Curb app instead of handing cash to the taxi driver.
When using the Curb app, your taxi ride cost will be based on the current taxi rates in your city. In other words, you will pay the meter price for your ride. To get a Curb estimate for your taxi ride, check out RideGuru.
How to Sign Up for Curb:
1. Download and open the Curb app on your smartphone.
2. Tap "Sign Up" and enter your first name, last name, mobile phone number, email, and preferred password. Then tap "Sign Up" again.
3. At this point you will receive a text from Curb prompting you to text the number back with the word "CURB" to complete your verification.
4. Read and agree to the terms of service, then tap "Accept."
5. Follow the prompt to add a payment method and start riding!
Once you have signed up you will see a home map screen that will allow you to input your desired pick-up and drop-off location.
Have you tried Curb or Curb Share yet? For more information on Curb check out this resource and to estimate the cost of your ride check out RideGuru.